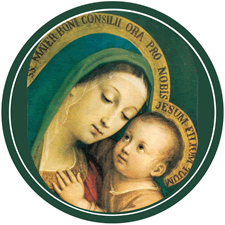 The officers of the Sacred Heart CCW would like to welcome each woman of our parish as a member of the CCW. Please examine your heart and consider becoming an active member of our organization to sustain our strength and build a stronger community. It takes a village to build a community.
Every woman, by virtue of being Catholic, is a member of the Sacred Heart CCW and of the Winona CCW, which is an extension of our parish organization. As a member of the CCW, we ask that you would attend the quarterly meetings to take part in the church and social concerns of our organization.
The Sacred Heart CCW strives to uphold the mission of the National CCW in providing leadership and coordination of activities of our parish, working together as children of God, and sharing concerns which reflect current issues of the church and society. We hold quarterly meetings and offer fellowship and opportunities to broaden your faith through activities and presentations.
The Sacred Heart CCW is comprised of three guilds. Each guild consists of our church members, who are randomly assigned to a guild. The guilds' purpose is to assist in implementing the activities of our church. Each guild is led by two volunteers who serve a two year term as Guild Chairs. The guild chairs initiate phone calls to seek food for funerals, remind parishioners of upcoming activities and recruit help for activities. Anyone interested in taking on the position of a guild chair can contact the Sacred Heart CCW President or a guild chair.
Sacred Heart CCW Officers
President
Dianne Freking
507.793.2754
Vice President
Needed
Secretary
Mackenzie Erickson
605.376.6638
Treasurers
Carmen Rasche
507.793.2357
Schedule Tri County
Marsha Edwards
507.793.2661
Sunshine Secretary
Joyce Pelzel
507.793.2492
Parish Coordinator
Carmen Rasche
507.793.2357
Commissions of the Council of Catholic Women:
The Sacred Heart CCW is working together with all catholic women to share common concerns about current issues in the church and society. There are seven commissions of the CCW, and each one has an appointed chair to report to the council the latest topics of concern and discussion.
---
Leadership Organizational Service
Dianne Freking - Chair
Service Family Concerns
- Chair
Service Community Concerns
Mary Ellen Stenzel - Chair
Service International Concerns
Judy Anderson - Chair
Spirituality Legislative Concerns
Mary Schmid - Chair
Spirituality Church Concerns
Barb Hussong - Chair
Spirituality Respect Life/Anti Pornography
Colleen Freking
Judy Stenzel
Patti Schneider
Sacred Heart CCW Meeting Dates:
All meetings are held in the Sacred Heart Church hall, unless otherwise stated. Reminders are posted in the weekly church bulletin, prior to the meeting. Meetings will begin at 7:00 p.m. and are generally kept to 1 hour in length. The meeting consists of an opening prayer, reports, correspondence, commission reports, unfinished business and new business. There is time for fellowship before and after the meetings.
click on dates to see the minutes
November 12, 2019 - Lunch by St. Ann's
February 11, 2020 - Lunch by St. Bernadette's
May 12, 2020 - Lunch by St. Catherine's
August 11, 2020 - Lunch by St. Ann's
November 10, 2020 - Lunch by St. Bernadette's
---
Area CCW Meeting Dates and Locations:
All ladies of the parish are encouraged to attend the Area CCW meetings for faith development and fellowship.
Tuesday, October 22, 2019 - 7 p.m. @ Lismore
January, 2020 - INFORMATION MAILING ONLY
Saturday, April TBD - Possible Retreat Brewster in Charge
Tuesday, July 28, 2020 - 7 p.m. @ Luverne (Mass for Deceased Members)
Tuesday, October 27, 2020 - 7 p.m. @ Lakefield