O Sacred Heart of Jesus, fountain of eternal life, Your Heart is a glowing furnace of Love. You are my refuge and my sanctuary.
- St. Gertrude the Great
---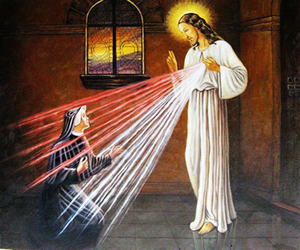 Divine Mercy: The message of mercy is that God loves us — all of us — no matter how great our sins. He wants us to recognize that His mercy is greater than our sins, so that we will call upon Him with trust, receive His mercy, and let it flow through us to others.
From the diary of a young Polish nun, a special devotion began spreading throughout the world in the 1930s. The message is nothing new, but is a reminder of what the Church has always taught through scripture and tradition: that God is merciful and forgiving and that we, too, must show mercy and forgiveness. But in the Divine Mercy devotion, the message takes on a powerful new focus, calling people to a deeper understanding that God's love is unlimited and available to everyone — especially the greatest sinners.
EWTN.com
Read more from one of the websites below:
---
Church Renovation: Sacred Heart Church was built in 1920-1921 and is listed on the National Register of Historical Places. This beautiful church has provided the spiritual needs of Sacred Heart Parish for many years. As the church has been there for our needs, it is time we take care of its. We are in the process of renovating the church in preparation of its 100th year anniversary.
After 43 years the carpet on the steps to the alter has been removed, revealing Indiana Limestone. Click here to see the pictures.
Visit the SH Foundation page for information and updates on the renovation. If you would like to make a contribution, please contact the office at office@sacredheartheronlake.org or call 507-793-2357.
---
Upcoming Events
04/29
9:00 am ~ First Communion Rehearsal
---
04/29
01:00 pm-02:00 pm ~ National Day of Prayer and Protest against Planned Parenthood
It will take place across the nation but you can join us in Rochester, MN
---
04/30
8:30 am ~ First Holy Communion
---
05/06
May Crowning
---
05/09
7:00 pm ~ CCW Meeting
- Lunch by St. Catherine's
---
05/13
12:45 pm ~ 100th Anniversary of Fatima Celebration
See the bulletin for information
---
05/20
Coffee & Rolls:
St. Bernadette's Guild
---
05/20
Mass for our Seniors
---