O Sacred Heart of Jesus, fountain of eternal life, Your Heart is a glowing furnace of Love. You are my refuge and my sanctuary.
- St. Gertrude the Great
We, the parishioners of Sacred Heart, welcome you to join our parish community. On this website you will find information about our parish, including Mass Times, how to contact the Parish Office, information about faith formation programs and more.
---
Church Renovation: Sacred Heart Church was built in 1920-1921 and is listed on the National Register of Historical Places. This beautiful church has provided the spiritual needs of Sacred Heart Parish for many years. As the church has been there for our needs, it is time we take care of its. We are in the process of renovating the church in preparation of its 100th year anniversary.
After 43 years the carpet on the steps to the alter has been removed, revealing Indiana Limestone. Click here to see the pictures.
Visit the SH Foundation page for information and updates on the renovation. If you would like to make a contribution, please contact the office at office@sacredheartheronlake.org or call 507-793-2357.
---
Upcoming Events
08/21-25
Meals On Wheels
Don & Maurita Volk
---
08/26
Ice cream after mass
Served by Doreen Voit-DeWall & Taylor
---
08/28-09/01
Meals On Wheels
Marilyn Fest
---
09/08
05:15 pm ~ The feast of the Nativity of the Blessed Virgin Mary
Bishop Quinn will renew the consecration of the Diocese of Winona to the Immaculate Heart of Mary at the Cathedral of the Sacred Heart
---
09/09
National Day of Remembrance for Aborted
See www.abortionmemorials.com for information and a location near you

---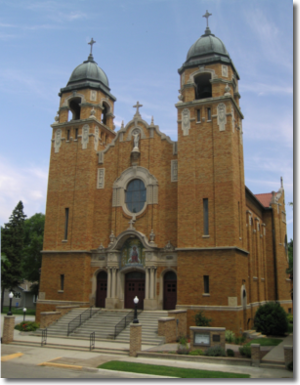 Tri-Parish Weekly Schedule
Summer Schedule: May 1 - Sept 30
Saturday
Sunday
8:00 am - Sacred Heart, Brewster
---
Winter Schedule: Oct 1 - April 30
Saturday
5:00 pm - Sacred Heart, Brewster
Sunday