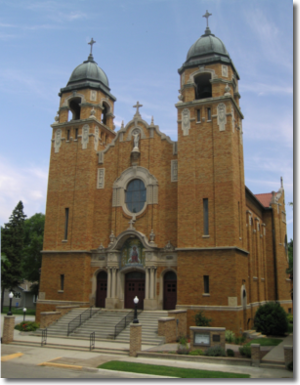 Tri-Parish Mass Intentions
You are invited to pray the rosary 1/2 hour prior to masses.
Friday (07-16)
9:00 am - Windom
Communion Service
† Arlene Bartosh
Saturday (07-17)
5:00 pm - Brewster
† Jack Strouth
Sunday (07-18)
8:00 am - Heron Lake
† Joe Salentiny
10:00 am - Windom
† Greg Schoborg
Tuesday (07-20)
5:30 pm - Windom
† Mavis & Herb Ratzlaff
Wednesday (07-21)
9:00 am - Heron Lake
† Milton & Tom Wolff
Thursday (07-22)
9:00 am - Brewster
† Robert Weaver
Friday (07-23)
9:00 am - Windom
Communion Service
† Kenneth Winker
Saturday (07-24)
5:00 pm - Brewster
† Brian Schmitz
Sunday (07-25)
8:00 am - Heron Lake
† Ed J. Freking
10:00 am - Windom
† Joyce Smith
Tuesday (07-27)
5:30 pm - Windom
† Brian Spencer
Wednesday (07-28)
9:00 am - Heron Lake
† Greg Schoborg
Thursday (07-29)
9:00 am - Brewster
† Joe & Marie McCarvel
Friday (07-30)
9:00 am - Windom
Communion Service
† Celestine "Sally"Ahrens
Saturday (07-31)
5:00 pm - Brewster
† Howard Damm
Sunday (08-01)
8:00 am - Heron Lake
† Ben & Dorothy Becker
10:00 am - Windom
† Helen Becker
Know that Fr. Pratap includes all of us in his daily prayers and private Mass intentions.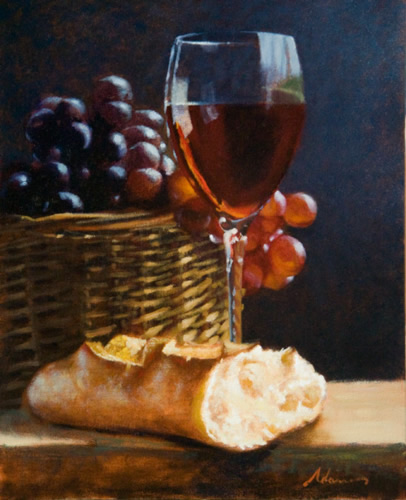 An Act of Spiritual Communion
My Jesus,
I believe that You are present in the Most Holy Sacrament.
I love You above all things,
and I desire to receive You into my soul.
Since I cannot at this moment receive You sacramentally,
come at least spiritually into my heart.
I embrace You as if You were already there
and unite myself wholly to You.
Never permit me to be separated from You.
Amen
Statement from the Bishop
Beginning the weekend of July 3-4, I, along with the other Bishops of Minnesota, will reinstate the obligation of Catholics to come to mass on Sunday or Saturday evening. Gathering together and sharing in the Eucharist is the primary way in which Catholics follow the lord's command to keep holy the Sabbath. While there are occasions such as tis past year where this obligation is dispensed, the Holy Sacrifice of the Mass remains the center of our lives as Catholics.
Why do Catholics cross their forhead, lips and heart at the Gospel?
We cross our forehead so that the Word of God may be in our thoughts and purify our minds. We cross our lips so that our speech may be holy and incline ups to share the Gospel with others. And we cross our hearts to invite God to strengthen our love for Him and others. This is so we may know, proclaim and love Jesus more.
St. Therese of Lisieux made a point of going the extra mile in kindness towards those people who really got under her skin. It was part of her own brand of Everyday Stewardship ‑ thanking God for all His creation, even the parts with which, in her own humanness, she struggled to cope.
I think about this a lot when I challenge myself to give thanks for things that bother me and people who challenge me. When I do this, I envision Christ giving thanks over those insufficient loaves. How many of us would see that paltry little basket and kick a rock in frustration because we can't feed all our people? "You didn't give me enough, Lord! You didn't give me enough patience, enough money, enough creativity, enough stamina to be a good steward. If you had given me more, I could also give more!"
In those moments of despair, we need to take a good look at the life God has given us. We need to look at the trials and the challenges and the shortcomings. The hopes that didn't pan out, the disappointments that keep cropping up. Somewhere therein lies what we need to be the steward God asks us to be, just as St. Therese's own stewardship was defined by the people she simply couldn't stand.
God does not give us all we want. He does not give us all we ask for. He does us one better: He gives us all we need. It's all in the basket.
©Tracy Earl Welliver, MTS
St. Oscar Romero said, "We cannot do everything, and there is a sense of liberation in realizing that. This enables us to do something and to do it very well. It may be incomplete, but it is the beginning, a step along the way, an opportunity for the Lord's grace to enter and do the rest."
There were a group of ladies many years ago who made quilts. They were beautiful creations reflecting inspirational designs artfully composed from the simple scraps of fabric each woman would bring to their individual pieces. There was no plan for the finished project as each finished work became the combined creation of what each woman contributed. They abounded in vibrant colors and dazzled the beholder with intricate patterns and their myriad textures. They were so beautiful that they became coveted family treasures passed from generation to generation. Those women never realized the power of their work. Countless babies rested in the comfort of those quilts warmly nestled in the legacy of tradition they were fortunate to inherit. They adorned countless homes with their beauty and brought joy and solace to many faces.
We cannot do everything. We are not meant to. Our work in life is to contribute our individual piece, a piece that reflects the unique thumbprint I claim as my own. We only have to do small things well. Then, as St. Oscar Romero reminds us, the Lord's grace will enter and do the rest. We have to trust that this is true just as those women trusted in the eventual beauty of their final work.
Eucharistic blessings are blessings that start small and multiply. We all come to life with only a few loaves of bread and a few fish. Not any single one of us has all that it takes to transform our world. Who knows what God will do with the little we have and how many will benefit from our kindness, compassion, wisdom, courage, conviction, love, warmth, zeal, faith, and hope? That young lad never dreamed that his few leftovers would do all that they did. God shows up in unexpected ways! Where would life's adventure and fun be if it were any other way? Being able to be part of bringing God's creative, transforming, healing to the world opens us up to wonder, awe, and excitement! We can all bring our little piece to the bigger work of God that can result in being a coveted jewel passed generation to generation. This is good news indeed!
Bread and wine transform into Christ's Body and Blood and we become what we eat. Trust that.
Carmen
will be out of the offic, July 22nd‑26th.
COF Ribeye Fry
from 5 ‑7 pm, Wed. Aug. 25, Steger Hall. Contact Kevin Leopold at 507‑793‑2894 or 360‑3048, to reserve your 12oz ribeye by Aug. 19. There's a $5 charge this year. Alternate option offered is 1/3 lb. hamburger, no charge.
All Youth Foresters
will receive $10 towards bouncy house, paint ball or ride passes at the Jackson County fair. Please call or text Mackenzie Erickson at 605‑376‑6638 during the fair to receive your tickets.
Calling all Worthington Area Council of Catholic Women members!
We are excited to be having an in‑person meeting on Tuesday, July 27th at St. Catherine's in Luverne. The meeting will begin at 7:00 pm with Mass for our deceased members of the past two years. We would love to see your smiling face!
Annual Church Cleaning
will take place the week of JULY 26th – 31st, from 8:00AM to 7:00PM. There will be a list of duties in the kitchen, along with cleaning supplies. Bring a bucket and rag, if you can. Please cross off the items as they are completed and sign your name on the sheet. If everyone gives some time and effort the work will be completed quickly!
Liturgical roles
for August and September are available on the tables in church entrance or you may view them at https://sacredheartheronlake.org. Please find a substitute if you're unable to be there on your designated date. If you're interested in being added to our list of volunteers as usher, Eucharistic minister, Sacristan or lead the rosary, we would be so happy to have you. Please contact Carmen at 793‑2357.
If you know of anyone
who would like to be listed on our prayer intentions or would like to have the Holy Eucharist brought to their home, please let Carmen know.
Plan to attend
our next quarterly CCW meeting on Tuesday, August 10th , at 7:00pm in the Church Hall. All ladies of the parish are members by virtue of belonging to Sacred Heart‑HL.
Fr. Pratap
will be participation in mission appeals for the next few Sundays, starting Sunday, July 11th. Fr. Greg Leif will offer the weekend masses in our tri‑parish. Please welcome Fr. Leif.
Pro‑Life Action Ministries is celebrating 40 Years!
"Pro‑Life Action Ministries has built one of the most comprehensive sidewalk counseling programs in the country. They peacefully reach out to women experiencing an unplanned pregnancy with love, truth and support as they enter abortion facilities. Tens of thousands of babies are alive today due to God's grace moving within sidewalk counselors and prayer supporters. It is an effective and legal ministry (unanimously upheld by the U.S. Supreme Court)." To learn more, see www.plam.org.
Confident Pregnancies and Stable Beginnings
Whether a pregnant woman is excited to bring her new baby home or is choosing the loving option of adoption, Catholic Charities supports confident pregnancies and stable beginnings. Our social workers travel to new and expectant parents all across the Diocese to bring help and hope through financial assistance, pregnancy counseling, parenting education, baby items, and helping women throughout the entire process of placing a child for adoption. We are honored to work with those who are pregnant or have a child under 12 months old. We work with teens and adults, women who are single or married, those who are financially secure or living in poverty. Reach our social workers at 800‑222‑5859.
Catholic Charities Dispels Adoption Myths
Please join us for a free, one hour training on Modern Adoption. This online course will go over the types of adoption, who birthparents are and why they choose adoption, positive adoption language, and how to support those exploring their options.
It's estimated that 40% of American adults know someone who has been adopted. Our goal is to dispel some common myths about adoption and give you confidence in talking about adoption with someone who is considering their options! This course is geared toward professionals and community members who want to learn what adoption is all about.
This training is offered via zoom on August 19th at 1pm. Register at https://www.ccsomn.org/calendar/modernadoption/ or by emailing adoption@ccsomn.org. We are also happy to schedule this training at no cost for your entire team.
Retreat for Catholic adults
desiring to share the gospel. The Power of Spiritual Friendship: being a friend of Christ and others in a hostile age retreat is for any Catholic adult who wants to deepen his/her friendship with Christ and offer it to others. Co‑leaders are Fr. Jonathan Fasnacht and Dr. Deb McManimon, and the weekend is filled with talks, Mass, confession, prayer, and adoration. It runs from Friday evening to Sunday noon, Aug 13‑15, at Shalom Hill Farm. Room and meals, $110; commuters, $55. For more information, please see https://www.dowr.org/offices/missionary‑discipleship/retreats.html. Reservation deadline is July 30th. Contact Rosalie Beyer (rbeyer@dowr.org).
Please DO NOT
leave items for Mary Joe Copeland in the church entry. Use boxes or bags for items to go in the trailer‑NO LOOSE ITEMS. If you are willing to haul the trailer to the Cities, please contact Linda Ortmann, 507‑822‑4249. Thank you!
Looking for a way to increase the love and romance in your marriage?
A Marriage Encounter Weekend allows a husband and wife to get away together and focus on each other. The next available Weekends are Oct 15‑17, 2021 in OWATONNA, MN and Nov 19‑21, 2021 in WINDOM, MN. Early registration is highly recommended. For more information visit our website at: southmnwwme.org or contact Miki at applications@southmnwwme.org or 507‑227‑8229.
Contributions
can be sent to Sacred Heart Church, PO Box 377, Heron Lake, MN 56137. You may also continue to support your parish through an online giving option. Giving is an act of worship. Your parish continues to need and appreciate your support.
Online parish donations
: An online page has been created on a secure website so that donors can make donations online to any parish in the Winona‑Rochester Diocese. Please visit
https://catholicfsmn.org/parish‑donations
. Donations made on this site are for the operations of parishes. Donors can use the drop‑down menu to select the parish that they would like to support. If donors would rather call in to provide their information, they can contact Monica Herman directly at 507‑858‑1276.
Facebook Page
New Parishioners
We welcome you into God's family! If you are interested in learning more about our church, or would like to join, please stop in the Parish Office.
Please notify the Parish Office of any change of address.
Marriage Preparation
Contact the priest 6 to 12 months in advance of the date of marriage to fill out the forms, to do FOCCUS Test and to attend Marriage Prep Mentoring sessions. Fr. Pratap is seeking married couples who are practicing Catholics, and have children, who would be willing to volunteer to help prepare our engaged couples for marriage. Please contact Fr. Pratap at 507‑226‑4536, or your parish office, if interested.
Baptism Preparation
Contact the parish office a month in advance to fill out the form and to attend Baptism Mentoring Sessions. All Baptisms will be celebrated privately until further notice.
Sacrament of Reconciliation
The Sacrament of Reconciliation still available by appointment for each Parish.