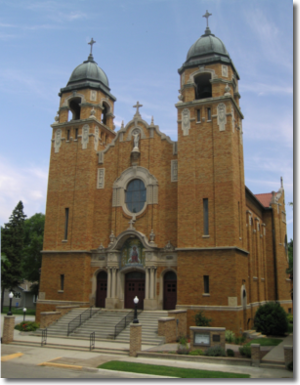 Tri-Parish Mass Intentions
You are invited to pray the rosary 1/2 hour prior to masses.
Thursday (06-03)
9:00 am - Brewster
† Joyce Konradi
Friday (06-04)
9:00 am - Windom
† Leona Farrell
Saturday (06-05)
5:00 pm - Brewster
† Weaver Family Living / Deceased
Sunday (06-06)
8:00 am - Heron Lake
† Ben & Dorothy Becker
10:00 am - Windom
† Clara Bartosh
Tuesday (06-08)
5:30 pm - Windom
† Celestine "Sally" Ahrens
Wednesday (06-09)
9:30 am - Heron Lake
† Lucy Ferguson
Thursday (06-10)
9:00 am - Brewster
† Msgr. Francis Galles
Friday (06-11)
9:00 am - Windom
† Joyce Smith
Saturday (06-12)
5:00 pm - Brewster
† Sylvester & Loralie Schmitz
Sunday (06-13)
8:00 am - Heron Lake
† Fr. Clayton Haberman
10:00 am - Windom
† Joe Carpenter
Know that Fr. Pratap includes all of us in his daily prayers and private Mass intentions.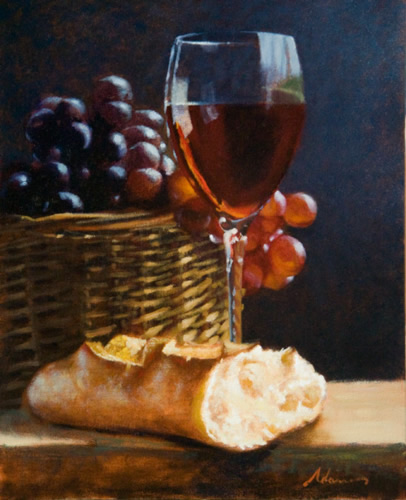 An Act of Spiritual Communion
My Jesus,
I believe that You are present in the Most Holy Sacrament.
I love You above all things,
and I desire to receive You into my soul.
Since I cannot at this moment receive You sacramentally,
come at least spiritually into my heart.
I embrace You as if You were already there
and unite myself wholly to You.
Never permit me to be separated from You.
Amen
Statement from the Bishop
Beginning the weekend of July 3-4, I, along with the other Bishops of Minnesota, will reinstate the obligation of Catholics to come to mass on Sunday or Saturday evening. Gathering together and sharing in the Eucharist is the primary way in which Catholics follow the lord's command to keep holy the Sabbath. While there are occasions such as tis past year where this obligation is dispensed, the Holy Sacrifice of the Mass remains the center of our lives as Catholics.
Click here to the full statement from the Bishop.
---
Mass protocols
: Those attending Mass are encouraged to wear a mask if they wish, but it is no longer mandatory. All Communion Ministers must sanitize their hands before and after they distribute, and members are encouraged to sanitize hands before receiving Holy Communion. If you wish to receive on the tongue, please wait until last to come forward at Communion time.
Church Collections
Where does the money go that is collected each week at Church?
This is a good question! Every parish has financial obligations, including the basic operation of the buildings, salaries, maintenance, and improvements. In addition, there are schools to support, programs to run, charities to be funded, and operational expenses like hosts and wine for Mass, music books, vestments, and so on. In some cases, cemeteries and other buildings need attention. Finally, there is the diocesan assessment that each parish pays to help run the diocese and the support services provided to each parish.
Most parishes manage to get by with the collection, a few fundraisers and endowments. But contrary to popular opinion, cash flow is also a problem, and many parishes operate in the red. The Finance Committee is responsible for assisting the pastor in fiscal management, and good stewardship is the basis for successful programs.
A favorite motto of St. Teresa of Calcutta was "do small things with great love." This is how it works in the kingdom of God. God can do tremendous things with the smallest gesture, especially when it is done in love. We can clearly see that our world is suffering greatly. People are struggling to find peace, navigate through conflicts, earn a sustainable living, find security and enough food to eat, and work through political tensions and conflicts. In the light of the magnitude of the difficulties that exist around us and even within us, we can find ourselves floundering to discover practical, effective solutions. How can something so large be helped by someone as small and seemingly insignificant as me? While whole systems and structures may be out of the league of our personal influence, are we really that helpless in the midst of all of the turmoil, sadness, and suffering?
If we believe that God is with us and that God is still working to bring about the glory of God's kingdom, then the answer is no. We are never helpless or without hope. Armed with a strong life of prayer, we can always flee to God and ask for inspiration, wisdom, and especially love. We are all blessed with unique gifts and talents and it often seems that considering all that the world lacks, love and charity remain at the top of the list. Life can easily become a battleground of hostility. Because life is challenging and difficult, anger is not far away. We see it on people's faces and hear it in their voices. There is a measure of frustration that permeates all avenues of life. It is even felt in the air.
As people of faith, we know that what we see here is not the end but only a part of something far greater to come. We know that God's kingdom is where we are ultimately meant to be, and the Gospel is the way to get there. If love and charity can prevail in us, then God will be able to do what God does best. God will use us to scatter the seeds of his kingdom. Through our small gestures, those seeds can receive the nurturing attention that is necessary for them to bear great fruit. We cannot fall victim to the strife that is around us. We have to keep ourselves refreshed and focused so that even in small ways, we can become part of the solution, not the problem. Love and charity, which come from God, can help to heal the ills of the world. May we bring these simple gifts to the everyday simple tasks of our lives! Watch how big the plant grows!
Sacred Heart Foundation
funds for the interior church renovation per our proxy with the Diocese cannot be accepted after this fiscal year end. If you still wish to make a donation, please do so by Sunday, June 27, 2021. Thank you.
Council Meetings
: The Pastoral Council will meet on Wednesday, June 23 at 6:00pm and the Finance Council will meet after, at 7:30pm. Both meetings will be held in the Church Hall.
R.E.A.P. Religious Education Assistance Program
enrollment forms should be completed and returned by COF families annually. The deadline to enter is June 30, 2020, so please apply. If you did not receive the form, you can apply by visiting www.catholicforester.org/Membership/ Scholarships
Liturgical Roles
for June and July are available on the tables in church entrance or you may view them on our website https:// sacredheartheronlake.org. Please find a substitute if you're unable to be there on your designated date. If you're interested in being added to our list of volunteers as usher, Eucharistic minister Sacristan or lead the rosary, we would be so happy to have you. Please contact Carmen at 793‑2357.
Anyone Interested
in forming a committee of four to update the Sacred Heart "Walking Tour" booklet of the church interior, please contact the parish office or Doreen Sheda 507‑360‑7774. The goal is to have this available for our Centennial Celebration, which our Parish Councils have decided to postpone until 2022.
Be assured
the use of your support envelopes is appreciated as this fiscal year comes to an end June 30th. If you are not ready or able to attend Mass yet, please mail your contributions to Sacred Heart Church, PO Box 377, Heron Lake, MN 56137.
Summer Retreat
: In a hard year, do you need time away, rest, and spiritual renewal? Please see Notes for All Parishes for details on upcoming in person and on‑line events.
The Catholic Ministries Appeal
follow up letter has been mailed out by the Diocese. This letter is going to households across the Diocese who have typically made a gift to the CMA in previous years but have not to the CMA‑2021, just yet. Thank you to all who have made a donation this and in past years.
We have become aware
of a number of emails impersonating Bishop John Quinn. These emails will try to create a sense of urgency or convince you that our bishop is in trouble and request you to send money. They may also ask you to purchase gift cards to give to COVID‑19 patients. These types of requests are NOT from Bishop Quinn and should be ignored. If you suspect an email is not from Bishop Quinn (or someone else that you know), it is always a good idea to contact the Pastoral Center at 507‑454‑4643 (or the individual being impersonated) to confirm the message's authenticity. Please contact your IT Support and ask them to blacklist the fake email's address. If the email impersonates someone from the Pastoral Center, you should also forward the email to Philip Briskey, pbriskey@dowr.org Feel free to contact Philip Briskey (pbriskey@dowr.org) at the Pastoral Center with any questions or concerns. Thank you for your patience and assistance with this matter.
Confident Pregnancies and Stable Beginnings
Whether a pregnant woman is excited to bring her new baby home or is choosing the loving option of adoption, Catholic Charities supports confident pregnancies and stable beginnings. Our social workers travel to new and expectant parents all across the Diocese to bring help and hope through financial assistance, pregnancy counseling, parenting education, baby items, and helping women throughout the entire process of placing a child for adoption. We are honored to work with those who are pregnant or have a child under 12 months old. We work with teens and adults, women who are single or married, those who are financially secure or living in poverty. Reach our social workers at 800‑222‑5859.
The Diocese is hosting
"Entertaining Angels: Parish Hospitality Workshop" on June 23‑24. This is going to be led by Saint Paul Evangelization Institute's national trainer, Sheri Wohlfert. The workshop is designed to teach and practice what Christian hospitality is and can be in a parish, and how it is the work of everyone: from the school/parish secretary, to the priest, to the volunteers, to the people at the end of the pew. It is both theological and very practical, with a significant interactive element. The focus will be on welcoming people back from the pandemic as well as welcoming people who have never entered a parish. This workshop could not be more timely. Unlike our other Mission Forward sessions, this online workshop spans two mornings (9am‑Noon). We are asking parishes, if possible, to gather in person and view this together as one registered group. There are interactive elements (especially the second morning) that are going to be more effective in person, even if people are distanced and masked. If there are questions about the workshop, contact Todd Graff or Susan Windley‑Daoust. We are offering this training at no charge to participants. Please do take advantage of the teaching, practice, and materials this workshop will provide. You can register here: https:// www.dowr.org/event‑details/725 on the Diocese of Winona‑Rochester website.
Rural Life Celebration
– The parish cluster of St. Adrian, St Anthony (Lismore) and Our Lady of Good Counsel (Wilmont) are hosting a special outdoor celebration of rural life that will include Mass, food, and fellowship beginning at 10:30 am on Sunday, June 27th. This will be held on the Gerald & Linda Fuerstenberg farm at 18438 110th St., Wilmont, MN 56185. Mass with Bishop Quinn as celebrant begins at 11:00 am. Please RSVP by calling 507‑483‑2317. All are welcome!
The Mary Jo Copeland trailer is full!
We cannot accept any more items until further notice!
Summer Retreats
: In a hard year, do you need time away, rest, and spiritual renewal? We have that for you. "The Power of Spiritual Friendship: Being a friend of Christ and others in a hostile age" is being offered this summer to all interested adults in southern Minnesota. The eastern retreat is June 18‑20 at Immaculate Heart of Mary Seminary, led by Fr. Jeff Dobbs and Dr. Susan Windley‑Daoust. The western retreat is August 13‑15 at Shalom Hill Farm retreat center outside of Windom, led by Fr. Jonathan Fasnacht and Dr. Deb McManimon. Each is $110 for two nights room, meals, and talks. $55 for commuters. Contact Rosalie Beyer at rbeyer@dowr.org to reserve a spot ASAP. More info: https://www.dowr.org/ offices/missionary‑discipleship/retreats.html
Open Position
: The Tri‑Parish of St. Joseph, St. Martin, & St. Leo is seeking a Youth Director/Wednesday Night Faith Formation Coordinator located at St. Leo in Pipestone. The individual in this position is responsible for developing engaging and spiritually enriching programs for our 6th ‑12th grade students. This individual will work closely with the Faith Formation Director. The ideal candidate needs to be a practicing Catholic and possess strong leadership and organizational skills. The position is approximately 15‑20 hours a week with flexibility. For more details, or to apply, please contact Msgr Kosse at 825‑3152.
Links of interest for Seniors
:
https://www.payingforseniorcare.com/minnesota
https://www.senioradvice.com/assisted‑living
Contributions
can be sent to Sacred Heart Church, PO Box 377, Heron Lake, MN 56137. You may also continue to support your parish through an online giving option. Giving is an act of worship. Your parish continues to need and appreciate your support.
Online parish donations
: An online page has been created on a secure website so that donors can make donations online to any parish in the Winona‑Rochester Diocese. Please visit
https://catholicfsmn.org/parish‑donations
. Donations made on this site are for the operations of parishes. Donors can use the drop‑down menu to select the parish that they would like to support. If donors would rather call in to provide their information, they can contact Monica Herman directly at 507‑858‑1276.
Facebook Page
New Parishioners
We welcome you into God's family! If you are interested in learning more about our church, or would like to join, please stop in the Parish Office.
Please notify the Parish Office of any change of address.
Marriage Preparation
Contact the priest 6 to 12 months in advance of the date of marriage to fill out the forms, to do FOCCUS Test and to attend Marriage Prep Mentoring sessions. Fr. Pratap is seeking married couples who are practicing Catholics, and have children, who would be willing to volunteer to help prepare our engaged couples for marriage. Please contact Fr. Pratap at 507‑226‑4536, or your parish office, if interested.
Baptism Preparation
Contact the parish office a month in advance to fill out the form and to attend Baptism Mentoring Sessions. All Baptisms will be celebrated privately until further notice.
Sacrament of Reconciliation
The Sacrament of Reconciliation still available by appointment for each Parish.