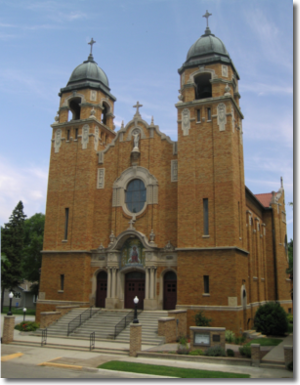 Tri-Parish Mass Intentions
Thursday (12-03)
9:00 am - Brewster
† Francis Nau
Friday (12-04)
9:00 am - Windom
† Rita Schoborg
Saturday (12-05)
5:00 pm - Brewster
† Robert Weaver
Sunday (12-06)
8:00 am - Heron Lake
† Joe Salentiny
10:00 am - Windom
† Jack Determan
Tuesday (12-08)
4:30 pm - Heron Lake
† Karen Mathias
5:30 pm - Windom
† Lorraine Mathias
Wednesday (12-09)
9:30 am - Heron Lake
† Bill Lohse
Thursday (12-10)
9:00 am - Brewster
† Paul & LaVerna Schaffer
Friday (12-11)
9:00 am - Windom
† Deceased Members—Schwalbach Family
Saturday (12-12)
5:00 pm - Brewster
† Kathy Nau Davis
Sunday (12-13)
8:00 am - Heron Lake
† Sr. Jocille Robinson
10:00 am - Windom
† Lorraine Anderson
Know that Fr. Pratap includes all of us in his daily prayers and private Mass intentions.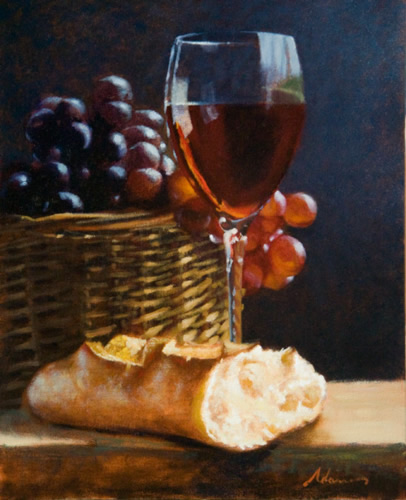 An Act of Spiritual Communion
My Jesus,
I believe that You are present in the Most Holy Sacrament.
I love You above all things,
and I desire to receive You into my soul.
Since I cannot at this moment receive You sacramentally,
come at least spiritually into my heart.
I embrace You as if You were already there
and unite myself wholly to You.
Never permit me to be separated from You.
Amen
Pope Francis Prayer for protection from Coronavirus
O Mary, you shine continuously on our journey as a sign of salvation and hope.
We entrust ourselves to you, Health of the Sick.
At the foot of the Cross you participated in Jesus' pain, with steadfast faith.
You, Salvation of the Roman People, know what we need. We are certain that you will provide, so that, as you did at Cana of Galilee, joy and feasting might return after this moment of trial. Help us, Mother of Divine Love, to conform ourselves to the Father's will and to do what Jesus tells us:
He who took our sufferings upon Himself, and bore our sorrows to bring us, through the Cross, to the joy of the Resurrection. Amen.
We seek refuge under your protection, O Holy Mother of God.
Do not despise our pleas – we who are put to the test – and deliver us from every danger, O glorious and blessed Virgin.


HAPPY BIRTHDAY FR. PRATAP!!
Thursday, July 2nd
At this Christmas when Christ comes, will He find a warm heart? Mark the season of Advent by loving and serving the others with God's own love and concern.
Mother Teresa, Love: A Fruit Always in Season
December 8th Holy Day - Immaculate Conception of Blessed Virgin Mary
4:00 pm ‑ Heron Lake
5:30 pm ‑ Windom
Christmas Mass Schedule
Christmas Eve
3:00 pm ‑ Brewster
5:00 pm ‑ Heron Lake
7:00 pm ‑ Windom
Christmas Day
10:00 am ‑ Windom
Total attendance at each Mass is limited to 50% of occupancy with proper social distancing of 6 ft between people not living in the same household. If you have a fever or are ill, please stay home
Remeber to remove your mask at communion time, line up in single file staying 6 ft. apart, and sanitize your hands. Thank you
Protocols for the public celebration of the Eucharist (MASS) during the Pandemic Restrictions
Wear a Mask, Maintain a social distance of 6 feet from others, Sanitize your hands at the entrance of the Church, Wait for ushers to guide you to a pew.
My Responsibilities when choosing to participate in the celebration of the Eucharist:
When in good health and with no cold, cough and fever, I choose to participate in the celebration of the Eucharist.
I wear a mask to the Church, sanitize my hands at the entrance of the Church and wait for ushers to guide me to a pew. Please do not enter Church without a mask.
Prior to receiving Communion, I sanitize my hands, follow social distancing and receive Communion reverently in my hand. Ushers will direct the Communion line.
I'll drop my offertory envelope in a basket placed at the entrances of the Church.
I will collect my own bulletin.
If I am able, I'll volunteer to assist in liturgical or ministry roles.
The faithful should be aware that the obligation to attend Sunday Mass remains dispensed until further notice.
Click here for the guidelines as suggested by Minnesota Department of Health.
While you are staying safe at home you can find daily gospel messages from Bishop Quinn at the Dioceses FaceBook page. If you have Facebook – go to the page for the Diocese of Winona‑Rochester and "like" the page, and these videos should show up on your Facebook newsfeed. https://www.facebook.com/DioceseWinonaRochester/videos/228448054972275/
You can find the daily readings at the United States Conference of Catholic Bishops website http://www.usccb.org/bible/readings/
Please stay home when you can and stay safe.
Question: When we say the Penitential Act at Mass, why do we strike our chest three times?
Our rituals and liturgical celebrations are filled with a variety of symbols, some of which also relate to our gestures and physical postures (e.g. kneeling, sitting, processing, making the Sign of the Cross). The custom of striking our breast three times during the "I Confess" of the Penitential Act of the Mass is one of those gestures that is loaded with symbolism.
The tradition of Christian's striking the breast (above the heart) is rooted in the image of Sacred Scripture, especially texts like Psalm 51 which speak of a "humbled contrite heart" or how God heals broken hearts, binding up our wounds (see Psalm 147:3). Early Christian writers like Saint Augustine of Hippo and Saint Jerome also refer to this custom in their writings.
Ultimately, this practice is an expression of our sorrow for those times when we have been guilty of faults and a sign that we are willing to take responsibility for our sins and failings. That we all perform this gesture together is also an act of solidarity, recognizing that none of us, regardless of where we are on our journey of faith, is without fault and the need for grace and forgiveness.
Weekly Gospel Meditation
You are at the eye doctor and it's time for the peripheral vision test. You know the one. It's where you put your head up to a contraption and have to click a switch every time you see a squiggly line. If you don't concentrate and maintain optimal focus, you will miss them and skew the outcome of the test. You can easily find yourself with a diagnosis that really isn't accurate! Concentration and focus are key to succeeding with this evaluation. They are also key to developing a healthy, vibrant spiritual life. If we do not bring our full consciousness to the task, concentrate with all our might, be watchful and vigilant, we are not going to see God's loving presence flashing before our eyes!
That's why we need Advent. Let's face it. We can easily get distracted, focus on nonessential and superficial things and lose touch with what really matters. Our attentions wander. We daydream and even become a bit overwhelmed and tired. All of the stresses and demands of life consume us and we find ourselves constantly trying to play catch up rather than relishing the moment of the now. "Now" moments are so fleeting. They flash before us like those squiggly lines on a screen. Present moments go as quickly as they come but it is important to discover them and rest in them as often as we can. Though gone in a flash, these now moments of encounter with God teach powerful lessons and offer a grounding in truth that can be found nowhere else. It's the grace of Advent to become watchful and attentive because we are never sure when God will surprise us.
God loves surprises and love thrives on them! God's now moments of surprises come as tender instants of intimate connection where we find profound peace, experience joy, and rest in love. These are Advent times reflective of the now moments when Christ first was born, when God surprises us during every time we care to watch and when the great surprise of Christ's second coming dawns upon us all. But, to discover the grandeur and experience the awe of these now times, we have to be ready. We have to want to be there. We have to believe. And, we have to have the desire to soak in as much as we can in the time we have before us.
Remember to remove
your mask at communion time and then sanitize your hands. Thank you.
Support your church
by placing your contributions, before or after Mass, in the baskets available on the tables in the church entrance. You may also mail them to Sacred Heart Church, PO Box 377, Heron Lake, MN 56137. Thank you for your support.
Remember
that contributions made by check to the 2020‑CMA must be dated and postmarked no later than December 31st, 2020. Have you made your annual donation to the Catholic Ministries Appeal for 2020? Thank you to those donors who so generously open their hearts to give each year.
Faith formation
classes will NOT be held on Wed., Nov. 25th, and Sunday, Nov. 29th, due to Thanksgiving break.
Liturgical roles for December
are available on tables in church entrance or you may also view them on our website https:// sacredheartheronlake.org. Please find a substitute If you are unable to be there on your designated date. Thank you.
Sacred Heart Parish
wishes to thank the Catholic Order of Foresters for the $764 grant funds for our Faith Formation program.
Thanks again
to all who contributed to the success of our Baby Bottle Campaign. We raised $880 this year to assist mothers to choose adoption, or parenting, over abortion for their unborn child. Please return all baby bottles to the back tables in church entrance so they can be reused again next year.
Catholic Extension 2021 calendars
, compliments of Osterberg Funeral Homes, can be found on the tables at the entrance of the church. Please remember to pick one up and thank our sponsors for providing them once again.
Respect Life: November is National Adoption Month!
For children, parents, and families, adoption paves the way for new beginnings and provides children with a forever family who can help them reach their full potential. During National Adoption Month, we recognize birth families who make the difficult decision to place their children up for adoption, commend foster parents who care for children from different backgrounds, and celebrate adoptive parents who open their families to those children in need. All children deserve a stable home with parents and families who can ensure their well‑being. Sadly, last year, 153,258 children were placed in the foster care system due to neglect, and 86,694 children were removed from their homes due to drug abuse. Please pray for the many children waiting to be placed in a safe home and for parents who are unable to care for their children.
DOW‑R GUIDELILNES FOR CELEBRATION OF MASSES DATED NOVEMBER 13, 2020:
‑The faithful should be aware that the obligation to attend Sundas Mass remains dispensed until further notice.
‑Those attending mass are required to wear masks unless they are 5 years old or younger, or have a medical condition to make it difficult to wear a mask.
Retrouvaille Marriage Help
: Thinking about Separation or Divorce? Hurting? Angry? Feel helpless? Retrouvaille is a lifeline for troubled marriages. Couples learn the tools to rediscover each other and heal their marriage. 100% confidential. When: December 4‑6, 2020; February 5‑7, 2021; Where: Best Western Dakota Ridge Hotel, 3450 Washington Dr, Eagan, MN 55122, 1‑800‑470‑2230, info@tcr‑mn.org, http:/www.helpourmarriage.org
November Diosecean Update
: https://www.dowr.org/offices/vicar‑general/diocesan‑update/2020‑11‑update.pdf
Catholic Charities of Southern Minnesota
would like to offer you some opportunities to make your Advent preparations special this year. Beginning on Saturday, Nov. 28th, we will offer an Advent Reflection Series – each Saturday at 10:00 am on Zoom. Each week we will have a guest presenter offering reflection and discussion on the themes of Advent each week; Hope, Peace, Joy and Love. To get the Zoom link for this series, please contact Lisa Kremer at lkremer@ccsomn.org. Also check the Advent banner on our website (www.ccsomn.org) for more information and other opportunities.
Contributions can be sent to Sacred Heart Church, PO Box 377, Heron Lake, MN 56137. You may also continue to support your parish through an online giving option. Giving is an act of worship. Your parish continues to need and appreciate your support.
Online parish donations: An online page has been created on a secure website so that donors can make donations online to any parish in the Winona‑Rochester Diocese. Please visit https://catholicfsmn.org/parish‑donations. Donations made on this site are for the operations of parishes. Donors can use the drop‑down menu to select the parish that they would like to support. If donors would rather call in to provide their information, they can contact Monica Herman directly at 507‑858‑1276.
Facebook Page
New Parishioners
We welcome you into God's family! If you are interested in learning more about our church, or would like to join, please stop in the Parish Office.
Please notify the Parish Office of any change of address.
Marriage Preparation
Contact the priest 6 to 12 months in ad- vance of the date of marriage to fill out the forms, to do FOCCUS Test and to attend Marriage Prep Mentoring sessions. Fr. Pratap is seeking married couples who are practicing Catholics, and have children, who would be willing to volunteer to help prepare our engaged couples for marriage. Please contact Fr. Pratap at 507‑226‑4536, or your parish office, if interested.
Baptism Preparation
Contact the parish office a month in ad- vance to fill out the form and to attend Baptism Mentoring Sessions. All Baptisms will be celebrated privately until further notice.
Sacrament of Reconciliation
The Sacrament of Reconciliation still available by appointment for each Parish.