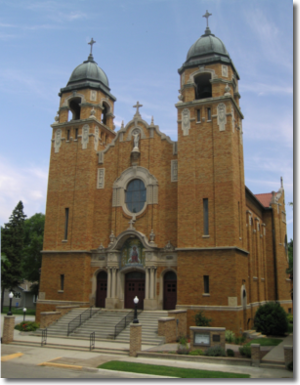 Tri-Parish Mass Intentions
You are invited to pray the rosary 1/2 hour prior to masses.
Thursday (06-01)
9:00 am - Brewster
† Rita Zinnel
Friday (06-02)
9:30 am - Sogge Home
† Ben & Dorothy Becker
Saturday (06-03)
5:00 pm - Brewster
† Leo & Fern Strouth
Sunday (06-04)
8:00 am - Heron Lake
† Sister Joan Bartosh
10:00 am - Windom
† Jess & Charlotte Bayliss
Tuesday (06-06)
5:30 pm - Windom
† Al Purrington
Wednesday (06-07)
9:00 am - Heron Lake
† Howard Damm
Thursday (06-08)
9:00 am - Brewster
† Sylvester & Loralie Schimtz
Friday (06-09)
9:30 am - Sogge Home
† Greg Schoborg
Saturday (06-10)
5:00 pm - Brewster
† Dennis Haberman
Sunday (06-11)
8:00 am - Heron Lake
† Rodney Miranowski
10:00 am - Windom
† Brittany Lamote
Know that Fr. Pratap includes all of us in his daily prayers and private Mass intentions.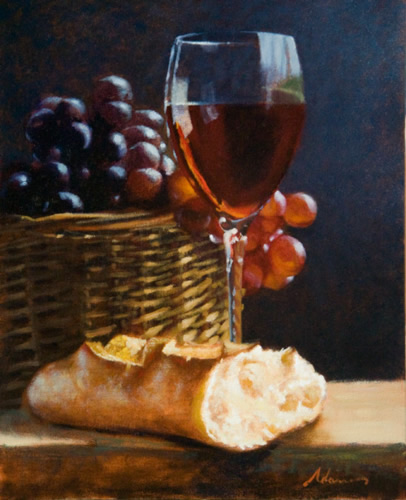 An Act of Spiritual Communion
My Jesus,
I believe that You are present in the Most Holy Sacrament.
I love You above all things,
and I desire to receive You into my soul.
Since I cannot at this moment receive You sacramentally,
come at least spiritually into my heart.
I embrace You as if You were already there
and unite myself wholly to You.
Never permit me to be separated from You.
Amen
No 9 A.M. Mass in Heron Lake on Wednesday, January 4th
Where is that guy with the rainbow wig holding a "John 3:16" sign in the end zone at NFL football games? Younger readers may not have any idea what I am talking about! You used to see this guy on TV all the time wearing "Jesus Saves" shirts and holding his sign. Most thought he was a harmless guy, but now he is serving multiple life sentences for taking hostages at a hotel near LAX in 1992. His name is Rollen Stewart and he believed — and continues to believe while in prison — that Jesus' second coming is imminent. His extreme actions were meant to make people take notice and listen to him. Now he sits behind bars, and most in the world see his name as nothing more than an answer to a trivia question.
It is a sad story when people hurt others or use extreme methods in the name of God. Mr. Stewart's belief that simply getting people to listen to his message is the most important step in their salvation is misguided. His poor stewardship should stand in stark contrast to our good stewardship. Our actions, seasoned at times with our words, should be the evidence people need to see the transformative power of Jesus Christ. We do believe that he is indeed coming again. But once you have committed yourself to him and live in his life on earth, when he returns is not our main concern. We are ready whenever that time comes, and hopefully, we can help others be ready as well by our example.
— Tracy Earl Welliver, MTS
The Most Holy Trinity
In my experience, one of the peculiarities of being a man is the somewhat unlikely ability to look into the mirror, no matter how out of shape he may be, and declare with full confidence: "Looking good, buddy!" Ask a man. He'll probably confirm it.
Therein lies a mystery. You might think I refer to man's ability to deceive himself or his propensity toward vainglory. But in this case, I refer to the mystery of a healthy and proper sense of self-love. We human beings (both men and women) have the utterly weird ability to look at ourselves as if we were another. Then we tend to love this "other." Then, somehow, that love becomes a bond between the two. We are three and yet one.
This Sunday is Trinity Sunday. We ponder anew that God in His unity is a play of multiplicity: Lover, Beloved, and shared Love. Or, as we also proclaim, Father, Son, and Holy Spirit. If we allow it, this mystery heals our temptation toward self-hatred and destruction. We all know how awful it is to look into the mirror and not know the person we see, or, equally bad, to know and hate who we see. Jesus, the Son of God, draws us into the dynamics of authentic self-knowledge and self-love. Perhaps we could ask the Holy Trinity this Sunday to teach us to truly look at ourselves and to properly love who we see looking back.
— Father John Muir
Vocational View
: Come along in our company. Welcome the Trinity—Father, Son and Spirit—to guide you on your journey. Listen to these companions on the way. (Exodus 34:4-6, 8-9)
Meetings
: Wednesday, June 14th Pastoral Council will meet at 6 PM and Finance Council will meet at 6:45 PM.
Confirmation
was held on Wednesday, May 31st at Sacred Heart in Heron Lake. Please keep our confirmation students
Joelle Brunk
and
David Perrizo
in your prayers. A special Thank You to Mackenzie Erickson for teaching and preparing them for this day.
Cemetery Decorations
: Please remember to remove ALL planters and decorations that obstruct mowing before Monday, June 5th. This includes all flowers and solar lights that are not attached to the head stone base. Anything the cemetery caretakers have to remove, after June 5th, will be placed by the East gate for a short time. Thank you!
Continuing On June
the last Saturday of each month, ADORATION will be in Heron Lake from 11-12. Please spend time adoring Jesus in the Blessed Sacrament. All ages are welcome. Fr. Pratap will also be available for anyone who would like to attend confession. Adoration and Confession is also available on the 1st Saturdays of each month at Saint Francis Xavier Church.
Everyone is invited
to take part in the NATIONAL EUCHARISTIC REVIVAL on June 10th in Mankato, Minnesota. Our diocese will be offering opportunities to deepen our love for the Eucharistic Lord. Please see the bulletin boards for information about registration. Please see our parish contact John Stenzel if you have any questions.
Office Closed
: The office will be closed from noon June 22nd through Sunday, July 2nd.
Liturgy Roles
for June/July are now available. Looking to become more involved in church? Please contact Melanie or Fr. Pratap if you are interested.
There will be no Saturday evening mass at Sacred Heart Church in Brewster on June 10th
.
Adoration and Confession
: Continuing on June 24th, on the last Saturday of each month, Adoration will be in Heron Lake from 11-12. Also beginning on July 1st and continuing forward, the 1st Saturday of each month, Adoration will be in Windom from 11-12. Please spend time adoring Jesus in the Blessed Sacrament. All ages are welcome. Fr. Pratap will be available for those who wish to attend Confession.
A Worldwide Marriage Encounter Weekend
renews the promises you made to each other on your wedding day. Experience an enrichment for your marriage that will make your good marriage great! The next available Weekend is Nov 17- 19, 2023 in WINDOM, MN. Early registration is highly recommended. For more information visit our website at: southmnwwme.org or contact Miki at applications@southmnwwme.org or 507-227-8229
Save The Dates
:
July 30-August 4 TOTUS TUUS This Summer in Fulda - All are Welcome!
Totus Tuus is Latin for "Totally Yours"! During this fantastic week, four college-aged missionaries will be on hand to teach about the great truths of Catholicism in a fun and engaging way. There'll be a day-time elementary program(preK - 6th grade); and an evening session for high school students. When God blessed us with children, He gave us the tremendous responsibility to teach them about Jesus and to do everything we can to help them reach Heaven someday! This grace-filled week will help your child grow in faith and knowledge of our beautiful Catholic Faith! July 30 - Aug 4, cost is $25 per student $50 max per family, checks made to St. Gabriel. Talk with Katelin about the possibility of forming carpools so your child(ren) can attend. Registration forms available at the churches upon request and in the church entrances of Saint Francis Xavier, Windom.
Institute Of Lay Formation
: See the poster at the entrance of the churches for the Institute Of Lay Formation information. The Eucharistic Formation of Missionary Discipleship session is starting soon. Contact Fr. Pratap or Judy if you have questions. 507-831-1985. This is a one-year formation process of intensive study of, and reflection on, the Church's teaching on the Eucharist. The aim of this year is to form lay leaders as missionary disciples "who are healed, converted, formed, and unified by an encounter with Jesus in the Eucharist – and who are then sent out on mission 'for the life of the world'."
Catholic Charities: (USA)
Last week Catholic Charities of Southern Minnesota was featured here. This week, the focus is on Catholic Charities, the national office. Catholic Charities USA's mission statement: At Catholic Charities we help people, regardless of their faith, who are struggling with poverty and other complex issues. The national office, through its advocacy and disaster relief programs — and its support of member agencies in our network — is making tangible progress toward better serving and loving our neighbors across the country. Our collective efforts focus on a set of strategic priorities that make a difference in the lives of people in need through the following programs.
Affordable Housing
Integrated Health
Food and Nutrition
Disaster Services
Immigration and Refugee Services
Social Enterprise Initiatives
Advocacy & Social Policy Initiatives
Foundation Services
Leadership Development & Catholic Identity
To access help or donate go to: www.catholiccharitiesusa.org
June 10th, in Mankato, MN. Eucharistic Revival
. For more information, see your Parish Galvanizers; Brewster—Bev McCarvel, Heron Lake—John Stenzel, and Windom—Judy Green. Pray for the Eucharistic Revival of the Diocese of Winona.
Registration fo to: https://eucharist.dowr.org/register/
Eucharistic Revival Prayer
Heavenly Father, we thank you for the gift of your Son, Jesus Christ, present to us in the Most Holy Eucharist. In Your unfathomable love you sent Your Only Son, so that by His Passion, Death, and Resurrection He might free us from sin and gain for us eternal life. Through baptism we become Your adopted sons and daughters, members of the Body of Christ, the Church.
Lord Jesus Christ, at the Last Supper You instituted the Eucharist, when You gave the apostles Your Body and Blood and commanded them to do this in memory of You. As we continue to celebrate this Sacrament at every Mass, enkindle in us a burning love for Your Real Presence. Increase our faith so that we may always believe that You are truly present, Body, Blood, Soul, and Divinity, in the Most Holy Eucharist, and that through partaking in this precious gift You strengthen us to live as Your disciples.
Holy Spirit, pour out on us an ardent desire to receive Jesus in the Eucharist, and to worship and adore Him with our entire lives. Help us to approach the Mass and Holy Communion with greater devotion, and to make time for silent prayer before the Blessed Sacrament. Enkindle in our young people a love for the Church and the Eucharist, and raise up many holy and faithful priests who by their service at the altar will continue to nourish the people of our diocese with the Bread of Eternal Life.
We ask for the intercession of all the angels and saints, especially Mary, Mother of the Eucharist, that this Eucharistic Revival may be a time of spiritual fruitfulness for the Diocese of Winona-Rochester and the whole Church, so that all Hearts may be transformed by the Real Presence of Jesus Christ in the Eucharist and come to know Him as the Source and Summit of their lives.
Blessed Carlo Acutis, patron of the National Eucharistic Revival, pray for us! Amen.
The "Synod on Synodality"... What Is It?
In October 2021, Pope Francis announced a two-year process of listening and dialogue of the Catholic Church, known as the "Synod on Synodality."
A "synod" is a journey of discernment rooted in the Holy Spirit. In the Synod on Synodality, the entire Church has been called to discern how the Spirit is moving through and with the Body of Christ ⁠— inside and outside the Church ⁠— so that we may continue to fulfill our mission to evangelize in the world.
During the Synod on Synodality, all Catholics are invited to listen with open hearts and minds, to share from their own lived experiences, and to make space for the voices of those often marginalized or excluded.
With these synodal aims, Pope Francis has invited the Church into what is fundamentally a process of healing — both from wounds suffered inside the Church, and those experienced in other areas of our lives and relationships.
The synodal process is already starting in Catholic dioceses around the world. Whether you are preparing to participate in a synod listening session in your parish, ministry or even facilitate synod sessions for your diocese, YOU can model restorative approaches in this important process.
For more information:
Please remember to check the back page of the bulletin and support our sponsors!
Facebook Page
New Parishioners
We welcome you into God's family! If you are interested in learning more about our church, or would like to join, please stop in the Parish Office.
Please notify the Parish Office of any change of address.
Marriage Preparation
Contact the priest 6 to 12 months in advance of the date of marriage to fill out the forms, to do FOCCUS Test and to attend Marriage Prep Mentoring sessions. Fr. Pratap is seeking married couples who are practicing Catholics, and have children, who would be willing to volunteer to help prepare our engaged couples for marriage. Please contact Fr. Pratap at 507‑226‑4536, or your parish office, if interested.
Baptism Preparation
Contact the parish office a month in advance to fill out the form and to attend Baptism Mentoring Sessions. All Baptisms will be celebrated during Mass.
Sacrament of Reconciliation
The Sacrament of Reconciliation still available by appointment for each Parish.