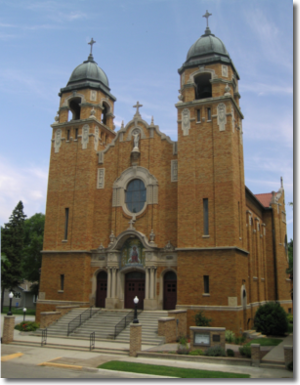 Tri-Parish Mass Intentions
Thursday (09-24)
9:00 am - Brewster
† Howard Damm
Friday (09-25)
5:30 pm - Windom
† Communion Service
Saturday (09-26)
5:00 pm - Brewster
† Peace In Our Country
Sunday (09-27)
8:00 am - Heron Lake
† Linus Liepold &
Peace In Our Country
10:00 am - Windom
† Peace In Our Country
Tuesday (09-29)
5:30 pm - Windom
† Joe Carpenter & Ed Grunewald
Wednesday (09-30)
9:30 am - Heron Lake
† William Lohse
Thursday (10-01)
9:00 am - Brewster
† Laurie Haberman
Friday (10-02)
5:30 pm - Windom
† Clara Bartosh
Saturday (10-03)
5:00 pm - Brewster
† Sylvester & Loralie Schmitz
Sunday (10-04)
8:00 am - Heron Lake
† Nick Henkels & Paula Eidhammer
10:00 am - Windom
† Tony Schmit
Know that Fr. Pratap includes all of us in his daily prayers and private Mass intentions.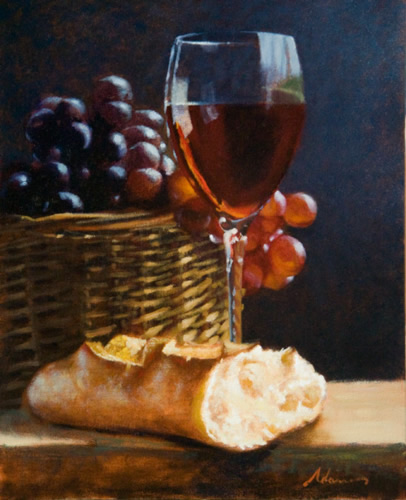 An Act of Spiritual Communion
My Jesus,
I believe that You are present in the Most Holy Sacrament.
I love You above all things,
and I desire to receive You into my soul.
Since I cannot at this moment receive You sacramentally,
come at least spiritually into my heart.
I embrace You as if You were already there
and unite myself wholly to You.
Never permit me to be separated from You.
Amen
Pope Francis Prayer for protection from Coronavirus
O Mary, you shine continuously on our journey as a sign of salvation and hope.
We entrust ourselves to you, Health of the Sick.
At the foot of the Cross you participated in Jesus' pain, with steadfast faith.
You, Salvation of the Roman People, know what we need. We are certain that you will provide, so that, as you did at Cana of Galilee, joy and feasting might return after this moment of trial. Help us, Mother of Divine Love, to conform ourselves to the Father's will and to do what Jesus tells us:
He who took our sufferings upon Himself, and bore our sorrows to bring us, through the Cross, to the joy of the Resurrection. Amen.
We seek refuge under your protection, O Holy Mother of God.
Do not despise our pleas – we who are put to the test – and deliver us from every danger, O glorious and blessed Virgin.


HAPPY BIRTHDAY FR. PRATAP!!
Thursday, July 2nd
Total attendance at each Mass is limited to 50% of occupancy with proper social distancing of 6 ft between people not living in the same household. If you have a fever or are ill, please stay home
Remeber to remove your mask at communion time, line up in single file staying 6 ft. apart, and sanitize your hands. Thank you
Protocols for the public celebration of the Eucharist (MASS) during the Pandemic Restrictions
Wear a Mask, Maintain a social distance of 6 feet from others, Sanitize your hands at the entrance of the Church, Wait for ushers to guide you to a pew.
My Responsibilities when choosing to participate in the celebration of the Eucharist:
When in good health and with no cold, cough and fever, I choose to participate in the celebration of the Eucharist.
I wear a mask to the Church, sanitize my hands at the entrance of the Church and wait for ushers to guide me to a pew. Please do not enter Church without a mask.
Prior to receiving Communion, I sanitize my hands, follow social distancing and receive Communion reverently in my hand. Ushers will direct the Communion line.
I'll drop my offertory envelope in a basket placed at the entrances of the Church.
I will collect my own bulletin.
If I am able, I'll volunteer to assist in liturgical or ministry roles.
The faithful should be aware that the obligation to attend Sunday Mass remains dispensed until further notice.
Click here for the guidelines as suggested by Minnesota Department of Health.
While you are staying safe at home you can find daily gospel messages from Bishop Quinn at the Dioceses FaceBook page. If you have Facebook – go to the page for the Diocese of Winona‑Rochester and "like" the page, and these videos should show up on your Facebook newsfeed. https://www.facebook.com/DioceseWinonaRochester/videos/228448054972275/
You can find the daily readings at the United States Conference of Catholic Bishops website http://www.usccb.org/bible/readings/
Please stay home when you can and stay safe.
Weekly Gospel Meditation
If I work for five hours, I expect to get paid for five hours. If I work for two, I expect to get paid for two. What if we worked for a company that paid everyone the same amount regardless of how long they worked? How would we feel going home with the same pay for working eight hours as my co‑worker did for working only two hours? Secular wisdom would have a huge problem with this and a visit to the Labor Board would quickly pursue. But this is God's wisdom and God's ways.
We sometimes think that if we pray more, better, or more fervently and go over and above with the practice of our faith, God will somehow reward us and present us with some kind of merit badge. We are so wrong. Spiritual practices have only one true purpose: to deepen our love for God. In deepening our love for God, we also increase our ability to see God's presence around us, living life more purposefully and contemplatively. What if God chooses to treat someone who has come on the scene of faith later in life the same as someone who has devoted their whole lives to it? Does it really matter? If we have the merit badge notion of faith, we can find ourselves feeling a little arrogant and even jealous of folks who have not followed the same path that we have. We can even see ourselves as the privileged few who have a corner on the faith and fully possess it.
That thinking doesn't square with God. God is all about mercy in abundance and is ready to take anyone to himself regardless of when they come. He is only happy that they have come home and delights in their return. After all, if you really and truly love someone, does it matter what they will give you in return or what you receive as a benefit? If relationships were assessed based upon productivity, they would lack authentic love. We invest too much self interest in our prayer and neglect to see it as an opportunity to pursue our Lover and deepen the intimate bond we have with God.
When we breathe our last, all that is of consequence is union with God. If my love for God is real, I am going to want to live the Gospel, abide by the commandments, practice my faith, forgive and love my neighbor, and care for the environment, regardless of how much time it takes or benefits me. We want God to think and behave as we do, and in doing so, we set ourselves up for disappointment. God has a totally different agenda and that's okay.
Faith formation classes
will begin in October. High School classes begin October 7th, and run from 7:00‑8:00 PM. Elementary classes begin October 11th, after Mass until 10:00AM.
Due to COVID
, there will be a different protocol for everyone's safety. There will be no gathering at the beginning of classes. Students will go directly to their rooms. There will be social distancing, masks will be worn. All necessary supplies such as pencils, markers, etc., will be in a zip lock bag marked with student's name. Hand sanitizers will be in each classroom to be used before entering room. No food is allowed; bottled water will be supplied to students. If the public school goes to distance learning, so will Faith Formation.
Water donations
: If you're willing to donate bottled water for Faith Formation students, please drop it in vestibule of church. Thank you!
A box of joy
may be the only Christmas gift a child in need receives. If you are interested, pick up a Box of Joy from the church, fill it and return it by October 1st. Join our CCW in showing God's unconditional love and spark the joy every child should experience! A list of gift item suggestions & instructions are attached to the boxes found on tables at the church entrance. Call Dianne Freking (793‑2754), if questions. The CCW will pick up the $9 postage fee, so no need to include that.
Liturgy roles
for the month of Oct. and Nov. are available for you to pick up from church entrance tables. They are also available for viewing on our website. Please visit
http://sacredheartheronlake.org/bulletin.
The Diocese will
soon be sending out a second mailing to those who have not yet made a gift to the 2020 Catholic Ministries Appeal. We are short $2,125 from our goal and have had only 28 parishioners contribute, so far. If our remaining families would each make a $15 gift, we could meet that goal without taking it from our general fund. Thank you for all past donations.v
TODAY, September 20th, is Catechetical Sunday
. A huge thank you to our Tri Parish Faith Formation teachers!
A PRAYER FOR OUR CATECHISTS
Loving Father, we pray today for our catechists. We thank you for their gift of ministry in your Church.
Grant them your wisdom that they may grow in the understanding and teaching of your Word. Grant them also your love that they may be fruitful heralds of your Word and lead others to love you.
Pour forth your Holy Spirit upon them to grant them wisdom about what is important; knowledge of the truths of faith; understanding of their meaning; right judgement about how to apply them in life; courage to persevere even in the face of adversity; reverence before all that is sacred and holy; and that loving zeal which leads others to a transforming encounter with your Son.
We pray this through Christ, our Lord. Amen.
Do you know someone
who would like to join OR return to the Catholic faith? RCIA classes will be starting soon for our tri parish. If you know of someone, please have them contact your parish office.
Respect Life
: 40 Days for Life ‑ Sept. 2 through Nov. 1: Prayer, fasting, and community outreach with educational materials. Babies saved ‑ 17,226, (documented), 206 abortion workers have quit, and 107 abortion centers have closed that have been the site (63 Nations) of a 40 Days for Life Campaign since 2007! For a location near you, see
www.40daysforlife.com
.
The Pro‑Life Novena for Unborn Babies takes place Sept. 29 ‑ Oct. 7. You are invited to offer a daily rosary during this time for the protection of preborn babies in the womb. At the Cathedral of the Sacred Heart, a Rosary will be offered before the 10:30am Mass on Sunday, Oct. 4th. For information, see
www.SaintMichaelTheArchangelOrganization.org
.
Are you, or someone you know, pregnant and in need of support?
Catholic Charities offers free, confidential support to those who are pregnant or have a new baby. In addition to resources like free baby items and rental assistance, our social workers offer parenting education, decision‑making counseling, and adoption planning and information. We are available to answer calls 24/7 at 800‑222‑5859. We can help you thoughtfully decide between parenting or adoption and confidently pursue the best plan for yourself and your baby.
Sacred Heart Parish of Heron Lake
has a job opening for office personnel performing secretarial work, answering phone, recording historical records, and other duties. Minimum 4 hours per week. Flexible schedule. Requires good people skills, organizational and computer skills, preferably including MS Word, Excel and Publisher. The candidate needs to be a practicing Catholic and willing to work with people of all ages. If interested, please contact Carmen at 507‑793‑2357 or stop in the office.
Catholic Charities of Southern MN
will be offering two fall studies based in Catholic Social Teaching on Zoom. Minnesota ‑ Our Common Home will be offered on Thursdays at 7 pm from Sept. 10th ‑ Oct. 15th, and Solidarity ‑ We Are Our Neighbor's Keepers will be on Tuesdays at 7 pm from Sept. 15th ‑ Oct. 20th. Learn more about the teachings of the Catholic faith with others from across the Diocese! All materials are free. To register or get more information contact Lisa Kremer at 507‑360‑3423 or by email:
lkremer@ccsomn.org
Faithful citizenship
We have heard that we should "form our consciences" in preparation for making a decision for the elections. But how do we do this? The Diocesan Social Concerns committee and Catholic Charities of Southern MN are sponsoring a virtual event to help us discern. On Oct 3rd at 10am, join us and presenter Dr. Bernard Evans (Professor Emeritus ‑ St. John's University) for his presentation: How to Approach Voting Around Issues of the Common Good. Registration is required. For more information or to register, please contact Lisa Kremer at
lkremer@ccsomn.org
Francisan Missions ‑ India
: Thank you to all who support our quarterly special collections to help make a difference in the lives of our brothers and sisters of India. There is a basket available for your gift.
Contributions can be sent to Sacred Heart Church, PO Box 377, Heron Lake, MN 56137. You may also continue to support your parish through an online giving option. Giving is an act of worship. Your parish continues to need and appreciate your support.
Online parish donations: An online page has been created on a secure website so that donors can make donations online to any parish in the Winona‑Rochester Diocese. Please visit https://catholicfsmn.org/parish‑donations. Donations made on this site are for the operations of parishes. Donors can use the drop‑down menu to select the parish that they would like to support. If donors would rather call in to provide their information, they can contact Monica Herman directly at 507‑858‑1276.
New Parishioners
We welcome you into God's family! If you are interested in learning more about our church, or would like to join, please stop in the Parish Office.
Please notify the Parish Office of any change of address.
Marriage Preparation
Contact the priest 6 to 12 months in ad- vance of the date of marriage to fill out the forms, to do FOCCUS Test and to attend Marriage Prep Mentoring sessions. Fr. Pratap is seeking married couples who are practicing Catholics, and have children, who would be willing to volunteer to help prepare our engaged couples for marriage. Please contact Fr. Pratap at 507‑226‑4536, or your parish office, if interested.
Baptism Preparation
Contact the parish office a month in ad- vance to fill out the form and to attend Baptism Mentoring Sessions. All Baptisms will be celebrated privately until further notice.
Sacrament of Reconciliation
The Sacrament of Reconciliation still available by appointment for each Parish.