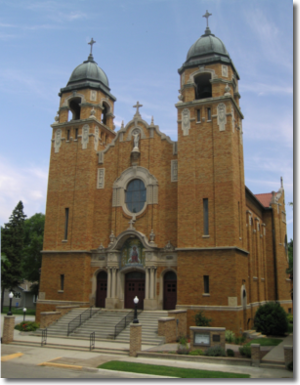 Tri-Parish Mass Intentions
Friday (7-10)
9:30 am - Sogge Home
† Celestine "Sally" Ahrens
Saturday (7-11)
5:00 pm - Brewster
† Howard Damm
Sunday (7-12)
8:00 am - Heron Lake
† Wm "Bill" Lohse
10:00 am - Windom
† Ronald Veenker
Tuesday (07-14)
5:30 pm - Windom
† Ed Grunewald
Wednesday (07-15)
9:30 am - Heron Lake
† Edward C. Freking
Thursday (07-16)
9:00 am - Brewster
† Linda Nau Ruehle
Friday (07-17)
5:30 pm - Windom
† Dorothy Becker
Saturday (07-18)
5:00 pm - Brewster
† Laurie Haberman
Sunday (07-19)
8:00 am - Heron Lake
† John & Anna Mathias
10:00 am - Windom
† Donald Frank
Know that Fr. Pratap includes all of us in his daily prayers and private Mass intentions.
Pope Francis Prayer for protection from Coronavirus
O Mary, you shine continuously on our journey as a sign of salvation and hope.
We entrust ourselves to you, Health of the Sick.
At the foot of the Cross you participated in Jesus' pain, with steadfast faith.
You, Salvation of the Roman People, know what we need. We are certain that you will provide, so that, as you did at Cana of Galilee, joy and feasting might return after this moment of trial. Help us, Mother of Divine Love, to conform ourselves to the Father's will and to do what Jesus tells us:
He who took our sufferings upon Himself, and bore our sorrows to bring us, through the Cross, to the joy of the Resurrection. Amen.
We seek refuge under your protection, O Holy Mother of God.
Do not despise our pleas – we who are put to the test – and deliver us from every danger, O glorious and blessed Virgin.


HAPPY BIRTHDAY FR. PRATAP!!
Thursday, July 2nd
Total attendance at each Mass is limited to 50% of occupancy with proper social distancing of 6 ft between people not living in the same household. If you have a fever or are ill, please stay home
Protocols for the public celebration of the Eucharist (MASS) during the Pandemic Restrictions
Wear a Mask, Maintain a social distance of 6 feet from others, Sanitize your hands at the entrance of the Church, Wait for ushers to guide you to a pew.
My Responsibilities when choosing to participate in the celebration of the Eucharist:
When in good health and with no cold, cough and fever, I choose to participate in the celebration of the Eucharist.
I wear a mask to the Church, sanitize my hands at the entrance of the Church and wait for ushers to guide me to a pew. Please do not enter Church without a mask.
Prior to receiving Communion, I sanitize my hands, follow social distancing and receive Communion reverently in my hand. Ushers will direct the Communion line.
I'll drop my offertory envelope in a basket placed at the entrances of the Church.
I will collect my own bulletin.
If I am able, I'll volunteer to assist in liturgical or ministry roles.
The faithful should be aware that the obligation to attend Sunday Mass remains dispensed until further notice.
Click here for the guidelines as suggested by Minnesota Department of Health.
While you are staying safe at home you can find daily gospel messages from Bishop Quinn at the Dioceses FaceBook page. If you have Facebook – go to the page for the Diocese of Winona‑Rochester and "like" the page, and these videos should show up on your Facebook newsfeed. https://www.facebook.com/DioceseWinonaRochester/videos/228448054972275/
You can find the daily readings at the United States Conference of Catholic Bishops website http://www.usccb.org/bible/readings/
Please stay home when you can and stay safe.
Contributions can be sent to Sacred Heart Church, PO Box 377, Heron Lake, MN 56137. You may also continue to support your parish through an online giving option. Giving is an act of worship. Your parish continues to need and appreciate your support.
Online parish donations: An online page has been created on a secure website so that donors can make donations online to any parish in the Winona‑Rochester Diocese. Please visit https://catholicfsmn.org/parish‑donations. Donations made on this site are for the operations of parishes. Donors can use the drop‑down menu to select the parish that they would like to support. If donors would rather call in to provide their information, they can contact Monica Herman directly at 507‑858‑1276.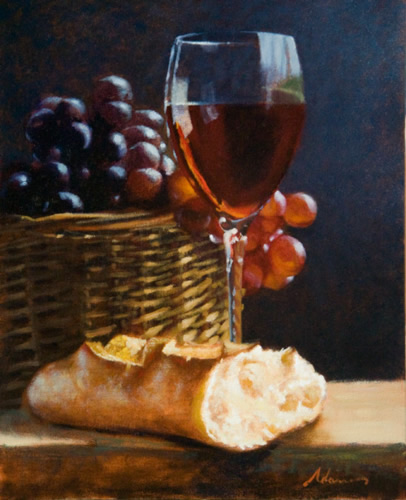 An Act of Spiritual Communion
My Jesus,
I believe that You are present in the Most Holy Sacrament.
I love You above all things,
and I desire to receive You into my soul.
Since I cannot at this moment receive You sacramentally,
come at least spiritually into my heart.
I embrace You as if You were already there
and unite myself wholly to You.
Never permit me to be separated from You.
Amen
Weekly Gospel Meditation
Grace and sin, belief and unbelief, good and evil all exist together. While we wrestle with these two dimensions of reality inwardly, they are also witnessed in the actions and words of others. Many, all too often, beat themselves up because of their sin. We are also all too quick to pass judgment on others whom we perceive to be in error and walking down a wrong path. God does not make rash judgments, nor should we. Patience is the order of the day as is an understanding that God is ultimately the caller of the shots.
Our faith tells us that while God allows the wheat and the weeds to coexist, the wheat will always triumph. As long as we can cultivate even a little faith and a small measure of desire for God, He can produce abundant blessings and good things. Even when the weeds seem to have triumphed, there still may be a small measure of faith remaining that can be cultivated and grown. It doesn't take much! Unless a person totally allows the weeds to reign, there is always to be found at least a small measure of faith, good, light, and love. With even this small portion, God can produce abundant growth.
Admittedly, it is easy to give into the weeds, and they grow very quickly. Any gardener knows this to be true. Sometimes, the weeds even seem more attractive and vibrant. Dealing with weeds can quickly become a losing battle, and they can look healthier and grow faster than the very plants we are trying to protect. It's easy to give into them and let them win. While God will deal with all things in due time, we are responsible for keeping things in check in the short term. It is our task to keep our eyes fixed on God's presence and mercy. We are asked to avoid judgment. And, it is not our responsibility to deal with the weeds in someone else's garden, only our own. One garden is enough responsibility for anyone.
Weeds have power. We have to realize this. While they can appear attractive and healthy, they can quickly choke us off from God's presence. Our task is one of maintenance and cultivating a desire for God. Even the smallest kernel of faith can grow into something wonderful. In God's time, the eternal harvest will come, and we will no longer have to worry about the weeds.
The Faith Formation Program
is in need of volunteer teachers beginning the Fall of 2020. Some of our present teachers are teaching 2 classes every week. If anyone would consider teaching grades 1, 4, 5, 9 or 10, please contact Judy Stenzel at 507‑360‑2049 or
judystenzel13@yahoo.com
Thank you!
Liturgical ministry roles
for the months of July/August are available for you to pick up from the church entrance. Roles are also available for viewing on our website
http://sacredheartheronlake.org/bulletin
. Just click on the Liturgical Roles Tab. Please find a substitute if unable to serve on your designated date. Ushers please come early. Thank you!
Robert Seydel
was ordained a Deacon in the Catholic Church on June 20, 2020. Robert's assisting at all Masses at St. Mark's in Highlands Ranch, Colorado, which can be accessed via this Facebook address:
https://www.facebook.com/stmarkhighlandersranch
. Congratulations and prayers, Robert! If you wish to send a note, his address is: Robert Seydel, 78 Whitehaven Circle, Highlands Ranch. CO 80129
Support your church
by placing your contributions, before or after Mass, in the baskets available on the tables in church entrance. You may also mail them to Sacred Heart Church, PO Box 377, Heron Lake, MN 56137. An online option is also available
https://catholicfsmn.org/parish‑donations
. Thank you.
Remember to remove
your mask at communion time, line up in single file staying 6 ft. apart, and sanitize your hands. Thank you.
Flower donations appreciated
If you have flowers from your gardens or wish to purchase and donate flowers for summer altar décor, contact Mary Mathias at 793‑2615. and, please leave message.
Extra contribution baskets
will be available for for the FRANCISCAN MISSION‑INDIA collections, and for the Mission Appeal for Catholic Diocese of Butare located in Rwanda‑Africa. Please be aware of which basket you are placing your special and regular contributions in. Thank you.
Worthington are COVID relief fund
‑ Sponsored by Catholic Charities of So.. Minnesota ‑ This fund is for those who have lost significant income because of the COVID outbreak and do not qualify for assistance through unemployment, stimulus money, or other forms of relief. Applicants must live in one of the following counties in Minnesota: Rock, Pipestone, Murray, Nobles, Jackson or Cottonwood. Assistance for rent or utilities will be granted up to $500 per household. For more information or to get an application form, contact your office.
This fund is supported by private donations. If you would like to help us help those in need, checks can be made out and sent to:
Catholic Charities
111 Market Street, Suite #2
PO Box 379
Winona, MN 55987
Checks should be made payable to "Catholic Charities" but it is very important to designate your gift by writing "Worthington COVID Relief in the memo line of the check.
Patrocinado por Caridades Católicas del Sur de Minnesota
Este fondo es para aquellos que han perdido ingresos significativos debido al brote de COVID y no califican para asistencia por desempleo, dinero de estímulo u otras formas de ayuda. Los solicitantes deben vivir en uno de los siguientes condados en Minnesota: Rock, Pipestone, Murray, Nobles, Jackson o Cottonwood. La asistencia para alquiler o servicios públicos se otorgará hasta $ 500 por hogar. Para obtener más información o para obtener un formulario de solicitud, comuníquese con: Lisa Kremer al 507‑360‑3423, correo electrónico:
lkremer@ccsomn.org
. La información y los formularios también están disponibles en nuestra oficina de la Iglesia.
Cross
A dedicated group of men created this cross from pieces of the original kneelers from Sacred Heart Catholic Church. They are being offered to parishoners and others for a nominal donation to Sacred Heart Foundation, to continue the restoration.
We would like to offer a cross to our eldest current or past Parish members living near Heron Lake or anywhere in the world, especially if living in skilled care facilities, home bound or with health difficulties. For those with the greatest need, it will be sent free of charge to the reciepients immediate family member for the presentation to their loved ones.
Church Renovation
Sacred Heart Church was built in 1920‑1921 and is listed on the National Register of Historical Places. This beautiful church has provided the spiritual needs of Sacred Heart Parish for many years. As the church has been there for our needs, it is time we take care of its. We are in the process of renovating the church in preparation of its 100th year anniversary.
Facebook Page
New Parishioners
We welcome you into God's family! If you are interested in learning more about our church, or would like to join, please stop in the Parish Office.
Please notify the Parish Office of any change of address.
Marriage Preparation
Contact the priest 6 to 12 months in advance of the date of marriage to fill out the forms, to do FOCCUS Test and to attend Marriage Prep Mentoring sessions. Fr. Pratap is seeking married couples who are practicing Catholics, and have children, who would be willing to volunteer to help prepare our engaged couples for marriage. Please contact Fr. Pratap at 507-226-4536, or your parish office, if interested
Baptism Preparation
Contact the parish office a month in advance to fill out the form and to attend Baptism Mentoring Sessions. All Baptisms will be celebrated privately until further notice.
Sacrament of Reconciliation
The Sacrament of Reconciliation still available by appointment for each Parish.