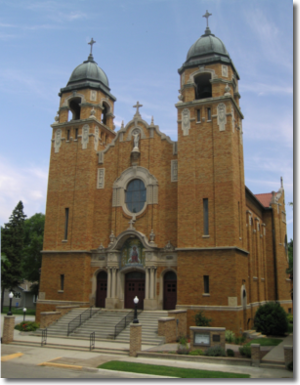 Tri-Parish Mass Intentions
You are invited to pray the rosary 1/2 hour prior to masses.
Thursday (05-12)
9:00 am - Brewster
† Margie Lubbers
Friday (05-13)
9:00 am - Windom
† Msgr Francis Galles
Saturday (05-14)
5:00 pm - Brewster
† Joe & Rose Weinandt
Sunday (05-15)
8:00 am - Heron Lake
† Karen Mathias
10:00 am - Windom
† Celestine "Sally" Ahrens
Tuesday (05-17)
5:30 pm - Windom
† Jess & Charlotte Bayliss
Wednesday (05-18)
9:00 am - Heron Lake
† Milton & Tom Wolff
Thursday (05-19)
9:00 am - Brewster
† Joe & Marie McCarvel
Friday (05-20)
9:00 am - Windom
† Greg Schoborg
Saturday (05-21)
5:00 pm - Brewster
† Howard Damm
Sunday (05-22)
8:00 am - Heron Lake
† Charles & Joanne Bartosh
† Kenny & Irene Gehrls
10:00 am - Windom
† Mavis & Herb Ratzlaff
Know that Fr. Pratap includes all of us in his daily prayers and private Mass intentions.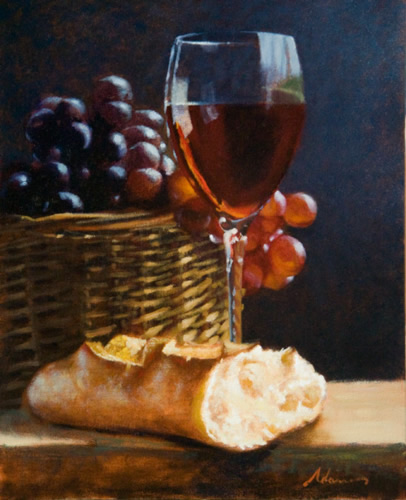 An Act of Spiritual Communion
My Jesus,
I believe that You are present in the Most Holy Sacrament.
I love You above all things,
and I desire to receive You into my soul.
Since I cannot at this moment receive You sacramentally,
come at least spiritually into my heart.
I embrace You as if You were already there
and unite myself wholly to You.
Never permit me to be separated from You.
Amen
I can't explain it. I feel a nudge from God to do something out of the ordinary. How do I respond?
You're in good company! Abraham was asked to leave all he knew and loved for a strange land, with only abstract divine assurance that such a sacrifice would be worth it. Plenty of prophets protested against God's call, whether it was claiming they were too young (Jeremiah) or running away entirely, only to end up in a whale's belly (Jonah). St. Joseph was asked to do something very strange. He was asked to believe ‑ on the word of an angelic appearance in a dream ‑ that his betrothed was pregnant not from another man, but by a miraculous intervention of God. Then he was called to marry her.
Author Flannery O'Connor once wrote, "You shall know the truth, and the truth shall make you odd." Sometimes God's invitation might seem strange or challenging. It might require sacrifices we never expected to make. Our life might look different than we had always imagined. But as we all know, life throws its own curveballs, regardless of whether or not we're listening for God's will. Better, one would think, to be open to the promptings of God and to follow along the strange trails that they lead. We have the assurance that, eventually, we will find green pastures.
WHEN OUR CHILDREN LEAVE THE FAITH...................
Once upon a time, you may have prayed for your darling child to become a nun. Odds are, you never prayed that she'd become a none.
Gallup reported earlier this year that church membership by Americans has hit a historic low, falling for the first time below 50%. More disturbing is the growing number of young people who identify as "nones," those without any religious affiliation.
Right now, almost one out of every three young people (those under the age of 40) claim no religious affiliation. These numbers hold true for Catholics as well as for non‑Catholics.
What the statistics don't show is the pain felt by so many parents who watch their children drift away. Those who have raised kids in the faith, went to Mass every Sunday, sent their children to religious education programs or to Catholic schools, feel this pain most deeply. "What did I do wrong?" we ask. "What should I have done differently?"
Catholics have always put great stock in the fact that the faith is inherited. One is "born Catholic," or "a cradle Catholic." This is no longer true, as Sherry Weddell points out in her powerful book, "Forming Intentional Disciples." God has no grandchildren, she says. These days, you don't inherit the faith like you do your eye color or your skin tone.
That parents worry about the faith lives of their children isn't something new. Such worry is as old as St. Monica praying for her son St. Augustine. But talk with Catholic parents these days, and it feels more widespread than ever. On any Sunday, there are likely dozens of Monica's in your parish and mine praying that their teenage or adult children return to the faith, get married in the church or have their grandchildren baptized. The unbaptized grandchild is a particularly deep wound.
There is a lot of anger and a lot of guilt swirling around this topic. The sociologist Christian Smith once warned lukewarm parents that "we'll get what we are." Lukewarm begets lukewarm, he was saying.
Yet what seems increasingly common are parents who love the faith, who feel it is an essential part of life, and who feel as if they've done something wrong when their kids wander away. What they are getting is not what they are.
If such disaffiliation from the faith of their fathers and mothers is nothing new for young people, the scale of the departure is. There are lots of explanations of why it is happening. Weddell believes that a fundamental problem in the church ‑ including priests and parents ‑ is a lack of personal relationship with the Lord.
We follow the rules, we do the right things, but we really don't know Jesus and we don't do a good job of talking about our relationship with Jesus. That somehow feels, well, Protestant. For the same reason, it can be hard for some of us to communicate with our children, adult or otherwise, what Jesus means to us, who he is in our lives.
Yet I also think that for many young people, they simply don't have time to invest in faith. They live in a world almost mad with distractions, and many of the messages buried in all those distractions is that religion is not something to be taken too seriously. It's worse than hostility. It's apathy. Faith is something they'll get around to someday. Maybe when they have children. Maybe when they have cancer. It isn't essential now.
The real enemy of the faith in our age is indifference. Combatting this enemy may be the biggest challenge facing our parishes, and our families, today.
‑ Greg Erlandson, Catholic News Service
6th Sunday of Easter
Jesus tells his disciples, "Peace I leave with you; my peace I give to you. Not as the world gives do I give it to you." The peace that Jesus gives is far different than the kind that comes from the absence of war, conflict, or affliction. The peace that God offers is found alongside suffering and hardship, not necessarily in their absence. St. Teresa of Avila offers us a bit of wisdom regarding peace: "May today there be peace within. May you trust God that you are exactly where you are meant to be. May you not forget the infinite possibilities that are born of faith. May you use those gifts that you have received and pass on the love that has been given to you. May you be content knowing you are a child of God. Let this presence settle into your bones and allow your soul the freedom to sing, dance, praise, and love. It is there for each and every one of us."
In order for us to experience the divine peace that Jesus offers, we have to allow God's presence to settle into our bones! It is only when this happens that we can be truly taught by the Holy Spirit to discern the true path to peace and find ourselves with untroubled hearts. The world and our lives are so unpredictable and changeable. If we look for a source of lasting and real peace only there, our search will never be satisfied. Something will always unsettle and disturb us. The Jewish disciples could really relate to what Jesus was saying about peace (shalom). They already knew that it was more a matter of achieving wholeness and wellbeing than anything else.
Wholeness and wellbeing are precisely what is uncovered when we begin to really see and know the height, depth, and breadth of God's presence and promise. The elegance of God's Divine life flows through our blood and the marrow in our bones. It is that close and deep. As we breathe in and exhale God's life, peace becomes what we know within and what is exhaled out. This remains in the midst of intense conflict, persecution, suffering, rejection, and even death.
Please welcome Fr. Nelson Adjei‑Brediako
, representing Cross Catholic Outreach, as he celebrates Mass in our Tri‑parish. Envelopes are available to support the important mission work of the Outreach priests.
Baccalaureate
was held today for our graduating seniors with coffee & rolls to follow. Please come join us and help congratulate our seniors.
Communion service
only on Wednesday, May 25th
Liturgical roles
for June and July now available to pick up on the tables in the church entrance.
Confirmation
will be held on Wednesday, June 1st in Heron Lake with Mass at 7:00 PM. We pray for all the Tri Parish candidates. The 2022 Sacred Heart‑ Heron Lake candidates are Olivia Barber, Thomas Bartosh, Marissa Becker, Braeden Erickson, Logan Hattendorf, Abby Linder, Nolan Madsen, Adam Perrizo, and Timothy Salentiny.
Cemetery Decorations
: Please remember to remove ALL planters and decorations placed on the cemetery that obstruct mowing before Monday, June 6th. This includes all flowers and solar lights that are not attached to the head stone base. Anything the cemetery caretakers have to remove, after June 6th, will be placed by the East gate for a short time. Thank you.
Ecumenical Vacation Bible School
will be taking place at United Methodist Church Hall June 6‑9. Please contact Missy Raverty or Julie Kilian with questions.
Thank you
to all the Faith Formation teachers that took the time to help this past year. You are greatly appreciated.
Thank you
to LaCanne Celebration of Life Center for the generous donation towards the internet we have installed in the church. It is always wonderful to have the support of a caring community.
FYI
: There are green folding chairs in storage looking for a new home. If interested, please contact the church office.
Fr. Pratap
will be on vacation from Monday, May 16th to Friday, May 27th. If you are in need of a Priest, please call your parish secretary. Communion services will be held in place of Mass on Tuesday, Wednesday , Thursday and Friday.
Fr. Nelson Adjei‑Bediako
will be visiting our parishes next weekend to celebrate Masses and to speak on behalf of Cross Catholic Outreach which was founded to create a meaningful link between parishes in America and the priests and nuns working in the Church overseas in the Caribbean, Africa, Asia, Central and South America.
Father Nelson Adjei‑Bediako was ordained a priest of the Roman Catholic Diocese of Ghana in 1998. He is a member of the Society of African Missions. He has a degree in Theology from Grand Seminaire St. Coeurde Mariem Anyama, Cote d'Ivoire. He now works as Local Superior at the Society of African Missions in Takoma Park, Maryland.
As an Outreach Priest, he is able to see the difference Cross Catholic makes in serving the poor. He is inspired and motivated as a priest from the country of Ghana and has worked in rural parishes in Nigeria and Togo where the majority are terribly poor.
Respect Life
: Did You Know? The birth control pill is considered a Class I carcinogen. Many women are not told this, but it is factual information that can be easily found. In addition, the risks for those taking the pill include breast cancer, uterine cancer and ovarian cancer. For information about the safe, effective and morally acceptable methods of Natural Family Planning (NFP), contact One More Soul at 1‑800‑307‑7685 or www.onemoresoul.com. One More Soul has resources to help people understand how children are a great blessing from God and how contraception is very harmful to women and their marriage, and consequently to families, the Church, and society.
The Praying Family
: Empower families in your parish to pray at home through The Praying Family, a new initiative by the Diocese of Winona‑Rochester. We provide prayer packages that fit the liturgical season, which include prayer activities that fit a family's schedule, and walk them through setting up a prayer space and creating intentional time to pray together. Our current prayer packs are May Crowning and Divine Mercy bags. More information on ordering or utilizing some of our free resources can be found at theprayingfamily.weekly.com.
Farmers Prayer to St. Joseph
O glorious St. Joseph, foster father of Jesus, you did provide for the Holy Family. We commit to your protection all our crops and farm industries.
Deign, we beseech you, to intercede in our behalf with Almighty God, Who rules the seasons, so that our fields being safe from pests and favored by the weather may yield abundant crops that will allow us to supply the wants of life. Thus freed from earthly worries may we after your example apply all our thoughts to eternal life. We beseech you to instill a love of the land into the hearts of our youth for their own salvation and that of Christian unity so that we may all share hereafter in the same blissful life you enjoy in heaven. Amen.
St. Joseph, Pray For Us!
St. Isadore, The Farmer, Pray For Us!
The Courier's May 2022
issue is now available online: https://issuu.com/dioceseofwinona/docs/may
This class will be set up as we hope to run grades 7‑10 next year
. So anyone interested in teaching can get a feel for what it might be like. If you can't make it every week, come when you can! Even if you are not ready to commit to being a catechist next year, please come to learn more about your faith and see how you can support our youth and our parish!
The "Synod on Synodality"... What Is It?
In October 2021, Pope Francis announced a two-year process of listening and dialogue of the Catholic Church, known as the "Synod on Synodality."
A "synod" is a journey of discernment rooted in the Holy Spirit. In the Synod on Synodality, the entire Church has been called to discern how the Spirit is moving through and with the Body of Christ ⁠— inside and outside the Church ⁠— so that we may continue to fulfill our mission to evangelize in the world.
During the Synod on Synodality, all Catholics are invited to listen with open hearts and minds, to share from their own lived experiences, and to make space for the voices of those often marginalized or excluded.
With these synodal aims, Pope Francis has invited the Church into what is fundamentally a process of healing — both from wounds suffered inside the Church, and those experienced in other areas of our lives and relationships.
The synodal process is already starting in Catholic dioceses around the world. Whether you are preparing to participate in a synod listening session in your parish, ministry or even facilitate synod sessions for your diocese, YOU can model restorative approaches in this important process.
For more information:
Please remember to check the back page of the bulletin and support our sponsors!
Facebook Page
New Parishioners
We welcome you into God's family! If you are interested in learning more about our church, or would like to join, please stop in the Parish Office.
Please notify the Parish Office of any change of address.
Marriage Preparation
Contact the priest 6 to 12 months in advance of the date of marriage to fill out the forms, to do FOCCUS Test and to attend Marriage Prep Mentoring sessions. Fr. Pratap is seeking married couples who are practicing Catholics, and have children, who would be willing to volunteer to help prepare our engaged couples for marriage. Please contact Fr. Pratap at 507‑226‑4536, or your parish office, if interested.
Baptism Preparation
Contact the parish office a month in advance to fill out the form and to attend Baptism Mentoring Sessions. All Baptisms will be celebrated during Mass.
Sacrament of Reconciliation
The Sacrament of Reconciliation still available by appointment for each Parish.