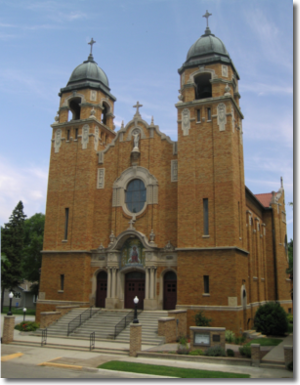 Tri-Parish Mass Intentions
Wednesday (10-21)
9:30 am - Heron Lake
† Ray Burns
Thursday (10-22)
9:00 am - Brewster
† Joe & Marie McCarvel
Friday (10-23)
5:30 pm - Windom
† Rita Schoborg
Saturday (10-24)
5:00 pm - Brewster
† Howard Damm
Sunday (10-25)
8:00 am - Heron Lake
† Lucy Ferguson
10:00 am - Windom
† Colleen Ortmann
Tuesday (10-27)
5:30 pm - Windom
† Al Purrington
Wednesday (10-28)
9:30 am - Heron Lake
† Marvin Liepold
Thursday (10-29)
9:00 am - Brewster
† Joyce Konradi
Friday (10-30)
5:30 pm - Windom
† Rodney Miranowski
Saturday (10-31)
5:00 pm - Brewster
† Karen Mathias
Sunday (11-01)
8:00 am - Heron Lake
† Wyatt Henkels
10:00 am - Windom
† Bill Fisher
Know that Fr. Pratap includes all of us in his daily prayers and private Mass intentions.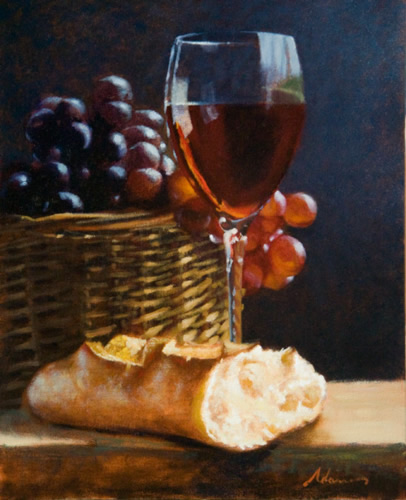 An Act of Spiritual Communion
My Jesus,
I believe that You are present in the Most Holy Sacrament.
I love You above all things,
and I desire to receive You into my soul.
Since I cannot at this moment receive You sacramentally,
come at least spiritually into my heart.
I embrace You as if You were already there
and unite myself wholly to You.
Never permit me to be separated from You.
Amen
Pope Francis Prayer for protection from Coronavirus
O Mary, you shine continuously on our journey as a sign of salvation and hope.
We entrust ourselves to you, Health of the Sick.
At the foot of the Cross you participated in Jesus' pain, with steadfast faith.
You, Salvation of the Roman People, know what we need. We are certain that you will provide, so that, as you did at Cana of Galilee, joy and feasting might return after this moment of trial. Help us, Mother of Divine Love, to conform ourselves to the Father's will and to do what Jesus tells us:
He who took our sufferings upon Himself, and bore our sorrows to bring us, through the Cross, to the joy of the Resurrection. Amen.
We seek refuge under your protection, O Holy Mother of God.
Do not despise our pleas – we who are put to the test – and deliver us from every danger, O glorious and blessed Virgin.


HAPPY BIRTHDAY FR. PRATAP!!
Thursday, July 2nd
Total attendance at each Mass is limited to 50% of occupancy with proper social distancing of 6 ft between people not living in the same household. If you have a fever or are ill, please stay home
Remeber to remove your mask at communion time, line up in single file staying 6 ft. apart, and sanitize your hands. Thank you
Protocols for the public celebration of the Eucharist (MASS) during the Pandemic Restrictions
Wear a Mask, Maintain a social distance of 6 feet from others, Sanitize your hands at the entrance of the Church, Wait for ushers to guide you to a pew.
My Responsibilities when choosing to participate in the celebration of the Eucharist:
When in good health and with no cold, cough and fever, I choose to participate in the celebration of the Eucharist.
I wear a mask to the Church, sanitize my hands at the entrance of the Church and wait for ushers to guide me to a pew. Please do not enter Church without a mask.
Prior to receiving Communion, I sanitize my hands, follow social distancing and receive Communion reverently in my hand. Ushers will direct the Communion line.
I'll drop my offertory envelope in a basket placed at the entrances of the Church.
I will collect my own bulletin.
If I am able, I'll volunteer to assist in liturgical or ministry roles.
The faithful should be aware that the obligation to attend Sunday Mass remains dispensed until further notice.
Click here for the guidelines as suggested by Minnesota Department of Health.
While you are staying safe at home you can find daily gospel messages from Bishop Quinn at the Dioceses FaceBook page. If you have Facebook – go to the page for the Diocese of Winona‑Rochester and "like" the page, and these videos should show up on your Facebook newsfeed. https://www.facebook.com/DioceseWinonaRochester/videos/228448054972275/
You can find the daily readings at the United States Conference of Catholic Bishops website http://www.usccb.org/bible/readings/
Please stay home when you can and stay safe.
Weekly Gospel Meditation
For some reason, it is easier to genuflect in reverence to the presence of Christ in the tabernacle of a church, than to genuflect in reverence to the same presence of Christ in another person's soul. We wrongly believe that God divides himself, placing himself in one place in preference to another. It doesn't work that way. Love of God and love of neighbor are intimately and inseparably connected because the essence and spark of God's very presence is in all creation. God's presence is just as real in the one who is good, as in the one who is bad, and the one who is just, as the one who is unjust.
Our brains get in the way of truly contemplating the awesomeness of this truth. We like to separate things into boxes, the sheep from the goats and the deserving from the undeserving. But, with God there are no distinctions such as this. Our human classifications, subdivisions, and definitions hold no power or have any weight in God's eyes. Sadly, we relate to God and to each other as if they do.
We cannot be deaf to the world's pain. It is not about having, hording, accumulating, acquiring, securing, storing, protecting, owning, claiming, or any of the other human terms we use to distinguish mine from yours. We put so much power in these words and that power, even though we may not always realize it, can cause those words and the distinctions they carry to wound and hurt others. We have the whole order of things wrong, but we are so set on preserving this order that we are absolutely afraid to do it any other way. We go through hoops trying to convince ourselves why the perils of the person seeking a new place to call home are not our perils that we turn our back and justify closing our doors. It makes perfect sense to us. Yet, it makes no sense in terms of our faith. It doesn't square with any of the words found in Sacred Scripture or in any time‑tested teaching of the church.
We have it all reversed. We know that we do because when Jesus speaks about such things and the words of the Old Testament prophets ring out again, we start to feel uncomfortable and anxious. What we do, directly or by omission, to one of the least of these little ones we do to God. It is quite possible that some of what we are doing personally, economically, politically, globally, and even religiously is doing more harm than good. Let's ponder that a bit.
Blessings to our 2020 Confirmation Class
:
Joseph Bartosh
,
Dylan Hattendorf
,
Zachary Haberman
and
Evan Madsen
. Thank you to Diana Madsen, Judy Stenzel and their sponsors who helped prepare them for this holy sacrament.
Students K‑6th
are welcome to attend a Halloween party after Faith Formation classes on Sun., Oct. 25th, at 10 am in Steger Hall for games and crafts. Please contact Mackenzie Erickson if you would like to help.
Helping hand Pregnancy Center
thanks our quilting club for supplying them with warm quilts to add to the variety of baby items they provide for their clients. God bless you, ladies!
Thank you
to those who have so generously donated to the 2020 Catholic Ministries Appeal to date. "All tithes of the land, whether in grain from the fields or in fruit from the trees, belong to the LORD, as sacred to him" ~ LEVITICUS 27:30
CCW Meeting
: Please join our CCW President and guild chairs at the Tuesday, Nov. 10th meeting in the church hall at 7:00 pm. Due to COVID‑19, the Council has not met since Feb., and has much to discuss. Your presence and interest to participate is greatly appreciated. This is your CCW!
Liturgy roles
for the month of Oct. and Nov. are available for you to pick up from church entrance tables. They are also available for viewing on our website. Please visit
http://sacredheartheronlake.org/bulletin
.
Please support the Baby Bottle Campaign
and pick up a baby bottle, fill it with your spare change and return it to the basket in the church entrance by November 8th, or leave them at the office as soon as possible. Donations go directly to supporting alternatives to abortion, and assisting women who choose life for their child. Thank you.
Catholic Ministries Appeal 2020
: Your generosity to the Catholic Ministries Appeal from year to year is so greatly appreciated! You are making a difference in our Catholic community through faith‑enriching ministries that take place throughout the year. Your gift makes a direct impact in supporting ministries that are leading people closer to Christ. Please give generously to the Catholic Ministries Appeal.
www.catholicfsmn.org/Appeal
October ‑ Domestic Violence Awareness Month
The National Council of Catholic Women offers two resources in the fight against domestic violence. A brochure, "Healing The Wounds" is available by contacting W‑RDCCW president Jeanette Fortier at
fortierjeanette@gmail.com
Resource manuals are available through the National Council website (
nccw.org
) for "Healing The Wounds" and "Mending The Brokenness...With Real Love."
Respect Life
‑ 40 Days for Life ‑ Sept. 23 through Nov. 1: Prayer, fasting, and community outreach with educational materials. Babies saved ‑ 17,226, (plus 283 lives saved since this campaign beginning September 23!) documented, More than 206 abortion workers have quit and 107 abortion centers have closed that have been the site (63 Nations) of a 40 Days for Life Campaign since 2007! For a location near you, see
www.40daysforlife.com
.
Thinking about adoption
but not sure where to start? Catholic Charities offers free adoption information meetings to help you learn about the process to begin building your family. We have adoption social workers in Winona, Rochester, Mankato and Worthington who can walk you through the process of international or domestic infant adoption. Please email
adoption@ccsomn.org
or call 507‑387‑5586 ext. 2 to schedule an information meeting.
These last months have been incredibly difficult on all of us and marriages have suffered!
Please let us help you to find enrichment, joy, and hope in your relationship! Register for the October 24‑25 Marriage Encounter. Weekends are held at Mt. Olivet Conference and Retreat Center in Farmington. Visit
www.marriages.org
for additional information or call 651.454.3238.
Sacred pilgrimages for 2021
: Better times are coming in 2021, so plan to enjoy them on a spiritual pilgrimage. Three trips are offered. First is "Alpine Europe" from April 12‑22. visiting the breathtaking beauty of Southern Germany, Switzerland and Austria, also known as the land of "The Sound of Music." The second is a pilgrimage to "Poland & Eastern Europe" July 26 ‑ August 6th, visiting the birthplace of Saint John Paul II, the Shrine of Divine Mercy, the Nazi death camp Auschwitz and so much more. The third trip will take us to "Ireland", from November 8‑18‑2021. Enjoy hearty Irish laughter with their song and dance, ancient stone walls flowering hedgerows and thatched‑roofed cottages! Mass daily in great Churches and Cathedrals along the way. For a brochure, contact Fr. Dan Guenther, St. Mary's Parish, 311‑4th Street North, Humboldt, Iowa 50548 or call 712‑899‑6870 or email
frdanguenther@gmail.com
.
Reinbows 13th Annual Halloween Drive‑Thru Trick‑or Treating & Scarecrow Contest!
Sat., Oct. 31st, 4:00‑6:00 pm, 43341 480th Ave., Windom. EVERYONE IS INVITED! The Horses Will Be In Costumes! Cash Prizes for Best Scarecrows! Please being a canned food item for the Windom Area Sharing Center.
Daylight savings time ends
: We will be returning to Standard Time next weekend. Turn your clocks BACK one hour upon retiring on Saturday night, October 31st.
Question: What Happens if Someone Drops a Consecrated Host?
Despite our best efforts, and this is as true in our liturgical celebrations as in all of life, accidents happen. Occasionally at Mass, a host may be dropped or some of the Precious Blood could even be spilled from the chalice, despite the best efforts of the priests, deacons, and extraordinary ministers of Holy Communion assisting at the liturgy.
So, when a host is dropped or the Precious Blood is spilled, we can take guidance from the U.S. Bishops' statement Norms for the Distribution for Holy Communion Under Both Kinds:
All ministers of Holy Communion should show the greatest reverence for the Most Holy Eucharist by their demeanor, their attire, and the manner in which they handle the consecrated bread or wine. Should there be any mishap ‑ as when, for example, the consecrated wine is spilled from the chalice ‑ then the affected "area . . . should be washed with water, and this water should be then poured into the sacrarium."
According to no. 280 of the General Instruction of the Roman Missal, the general rule is that a dropped host is picked up by the minister distributing Communion and reverently consumed. The minster should be careful to make sure that no other particles from the host remain on the ground. As we see in the instruction from the bishops, the Precious Blood would be absorbed (customarily with a purificator) and the area attentively and reverently washed with water which would then be disposed of properly.
Contributions can be sent to Sacred Heart Church, PO Box 377, Heron Lake, MN 56137. You may also continue to support your parish through an online giving option. Giving is an act of worship. Your parish continues to need and appreciate your support.
Online parish donations: An online page has been created on a secure website so that donors can make donations online to any parish in the Winona‑Rochester Diocese. Please visit https://catholicfsmn.org/parish‑donations. Donations made on this site are for the operations of parishes. Donors can use the drop‑down menu to select the parish that they would like to support. If donors would rather call in to provide their information, they can contact Monica Herman directly at 507‑858‑1276.
Facebook Page
New Parishioners
We welcome you into God's family! If you are interested in learning more about our church, or would like to join, please stop in the Parish Office.
Please notify the Parish Office of any change of address.
Marriage Preparation
Contact the priest 6 to 12 months in ad- vance of the date of marriage to fill out the forms, to do FOCCUS Test and to attend Marriage Prep Mentoring sessions. Fr. Pratap is seeking married couples who are practicing Catholics, and have children, who would be willing to volunteer to help prepare our engaged couples for marriage. Please contact Fr. Pratap at 507‑226‑4536, or your parish office, if interested.
Baptism Preparation
Contact the parish office a month in ad- vance to fill out the form and to attend Baptism Mentoring Sessions. All Baptisms will be celebrated privately until further notice.
Sacrament of Reconciliation
The Sacrament of Reconciliation still available by appointment for each Parish.