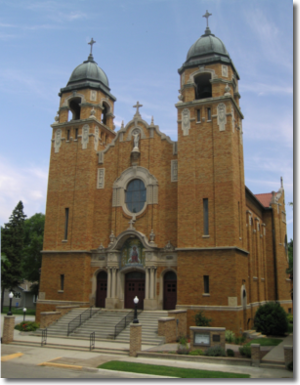 Tri-Parish Mass Intentions
You are invited to pray the rosary 1/2 hour prior to masses.
Thursday (10-14)
9:00 am - Brewster
Communion Service
† LeRoy & Catherine Starner
Friday (10-15)
9:00 am - Windom
Communion Service
† Al Purrington
Saturday (10-16)
5:00 pm - Brewster
† LeRoy & Catherine Starner
Jeneva Nau
Sunday (10-17)
8:00 am - Heron Lake
† Ed J. Freking
10:00 am - Windom
† Edward Grunewald
Tuesday (10-19)
5:30 pm - Windom
Communion Service
† Arlene Bartosh
Wednesday (10-20)
9:00 am - Heron Lake
Communion Service
† Nick Henkels
† Paula Eidhammer>
Thursday (10-21)
9:00 am - Brewster
Communion Service
† Jack Strouth
Friday (10-22)
9:00 am - Windom
Communion Service
† Lorraine Mathias
Saturday (10-23)
5:00 pm - Brewster
† Jean Schmitz
Sunday (10-24)
8:00 am - Heron Lake
† George Pluard
10:00 am - Windom
† Helen Haugen
Know that Fr. Pratap includes all of us in his daily prayers and private Mass intentions.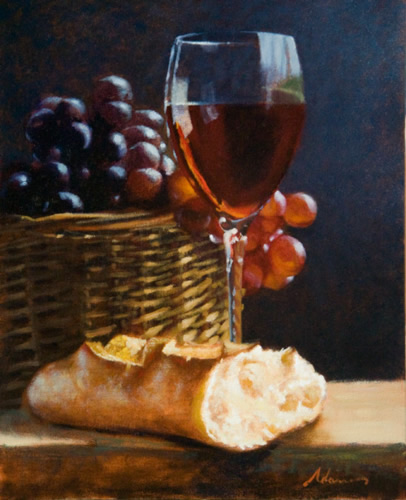 An Act of Spiritual Communion
My Jesus,
I believe that You are present in the Most Holy Sacrament.
I love You above all things,
and I desire to receive You into my soul.
Since I cannot at this moment receive You sacramentally,
come at least spiritually into my heart.
I embrace You as if You were already there
and unite myself wholly to You.
Never permit me to be separated from You.
Amen
Statement from the Bishop
Beginning the weekend of July 3-4, I, along with the other Bishops of Minnesota, will reinstate the obligation of Catholics to come to mass on Sunday or Saturday evening. Gathering together and sharing in the Eucharist is the primary way in which Catholics follow the lord's command to keep holy the Sabbath. While there are occasions such as tis past year where this obligation is dispensed, the Holy Sacrifice of the Mass remains the center of our lives as Catholics.
We, the parishioners of Sacred Heart, welcome you to join our parish community. On this website you will find information about our parish, including Mass Times, how to contact the Parish Office, information about faith formation programs and more.
---
O Sacred Heart of Jesus, fountain of eternal life, Your Heart is a glowing furnace of Love. You are my refuge and my sanctuary.
St. Gertrude the Great
Since the beginnings of the Church, kneeling has been a key posture of prayer. We see Sts. Peter and Paul in the Acts of the Apostles kneeling in prayer. Early in the 4th century, the Council of Nicea prohibited kneeling on Sundays and special feasts. Kneeling began more as a posture of penance for our sins, but in the history of the Church, it has become more a posture or reverence and solemn prayer.
You will notice that the times we kneel at Mass are tied to the consecration of the holy Eucharist. We kneel in both anticipation of what will occur and then in awe of what has taken place: Jesus Christ becomes truly present to us under the guise of bread and wine. The profoundness of this event has over time led the Church to mandate in the current General Instruction of the Roman Missal that kneeling is the only posture allowed during this time. The sheer awesomeness of the holy Eucharist leads us to fall to our knees in wonder and thanksgiving.
"What do you wish me to do for you?" Whether we realize it, this is a question God is always asking. It's an important question because the answer we provide will reveal a great deal about where our hearts lie. Our requests of God can often appear very noble and altruistic. They consist of requests for healing for someone in need of prayers, successful resolution of a personal conflict, assistance in overcoming a disease and myriad other desires for both ourselves and others. We are especially concerned about those we love and can easily find ourselves bringing their struggles to God for a hearing in our prayer.
Is that really all that prayer is about? The woman in today's Gospel, having been put in her place by Jesus, was only looking out for the wellbeing of her sons. She was doing what mothers do, protecting and securing the livelihood of her children. But she was sadly mistaken, her request was not granted. We all make this same misguided mistake from time to time. The goal of prayer is not to convince God of the worthiness of our agenda or to gain a hearing. Sometimes we believe that the more we multiply our prayers or discover the right combination of supplications that we will receive more of God's attention. That's not how it works. Even though God desires to hear, know, and be an intimate part of what is on our minds, it goes much deeper.
What we need from God is a relationship. It's a relationship that guides and immerses us in the very stuff of life and in the direction of the Gospel. This relationship sees God's kingdom and agenda, not our own, as what is most important. It builds the strength of character necessary to bring God's Gospel into a world that may not receive it with open arms. It may cause us discomfort and suffering. We are asked to heroically journey with God through suffering, hardship, ridicule, and even death! Ultimately, our desire from God must become our desire for God. It is only when this happens that the powerful words "thy will be done" will be found with sincerity and humility on our lips. Whatever God wishes becomes what we wish as we see this glorious union of wills. Our humble lives will then become powerful witnesses, and what happens to us in God's eternal kingdom the result of his mercy. We become true servants and find ourselves discovering God's definition of success. That definition has nothing at all to do with status, income, or privilege.
Sacred Heart Parish
is looking for someone to do the seasonal church decorating. Please contact the parish office or Fr. Pratap, if interested. We wish to thank Mary Mathias for her many years of service in making our church a beautiful place in which to worship and celebrate.
Congratulations
Dave and Bonnie Henkels who celebrated 50 years of marriage on October 9th.
Communion Service
will be held on Wednesday mornings at 9 AM, while Fr. Pratap is away on his trip to India. Everyone is welcome.
There will be no
Faith Formation classes held on Wed., October 20th, or Sunday, October 24th, due to the MEA break.
Thank You
to all who made a donation to the Catholic Ministries Appeal for 2021 and helped Sacred Heart of Heron Lake meet their goal. Your gift each year makes a direct impact in supporting ministries that are leading people closer to Christ. God Bless You!
Worthington Area CCW Meeting
: Tuesday, October 26th, 7:00 PM; St. Joseph Catholic Church, Lakefield, MN. Please remember to bring your Boxes of Joy, or return them to SH Church by Oct 24th.
Remember
to pick up the newly updated 2021‑2022 Parish Directory. They can be found on tables in church entrance.
The liturgy roles
for the months of Oct. and Nov. are available for you to pick up from the church entrance. They are also available for viewing on our website. Please visit us at http://sacredheartheronlake.org/bulletin/.
Our CCW
is still asking for a volunteer to fill the Vice President position. We wish to thank Lisa Carlson for taking CCW Secretary, and Mackenzie Erickson for her past service in that position.
Baby Bottle Campaign
: Please pick up your baby bottle to help Catholic Charities' Mother & Child Assistance Fund provide women who are considering adoption and/ or parenting with financial assistance. Fill the bottle with your spare change during the month of October and then return it to the cradle in church entrance by Nov. 7th. Thank you for joining your CCW in supporting this project.
Jason Gray Concert
will be held October 21st at 7:00 p.m. at the Jackson County Central High School Auditorium. This is a free Concert for families or students. If anyone needs a ride, contact Colleen Freking 507‑329‑0747 or LeAnn Salentiny 507‑360‑3758.
Fr. Pratap
is visiting his family in India and will be back on Tuesday, November 23rd. Please pray for a safe trip for Fr. Pratap. If you need a priest in Fr. Pratap's absence, please contact your parish secretary.
Communion by mouth
: The front pews are reserved for parishioners who choose to receive the Eucharist by mouth. If you receive by mouth, PLEASE move to a front pew and the Eucharistic Minister will bring the Eucharist to you when everyone in line has been served. THANK YOU!
Respect Life
"The worst suffering of seriously ill people 'is often not physical pain, which can be alleviated with competent medical care, but feelings of isolation and hopelessness.' " ‑ 2016‑17 Resource Guide, "Simple Supplements: Caring for Loved Ones at Life's End," USCCB Secretariat of Pro‑life Activities. Did you Know? You can access great articles, prayers, and reference information at www.usccb.org/respectlife. Be pro‑active. Learn what you can, before you need to make important decisions for yourself and your loved ones.
Position Opening
: Sacred Heart Church in Heron Lake is seeking a Parish Administrator. The preferred candidate will have experience in basic accounting / payroll, be a practicing Catholic willing to learn the church accounting system, have basic computer knowledge including Microsoft programs, and be willing to work in an office setting. An employee benefit package is offered. The office is located at 321 9th St., in Heron Lake, MN. A job application may be obtained from the church office or by calling 507‑793‑2357. Send resume and credentials by November 1, 2021 to: Fr. Pratap Salibindla at PO Box 377, Heron Lake, MN.
Catholic Charities of Southern MN
is offering a new ZOOM study in October! Harm, Healing, and Human Dignity: A Catholic Encounter with Restorative Justice (led by Lisa Kremer – Thursday at 7:00PM, October 21st). For more information or to register, contact Lisa at lkremer@ccsomn.org – 507‑360‑3423. More information can be found at our website: (ccsomn.org)
15th Annual Baby Bottle Campaign
is underway in parishes across the Diocese where you can take home a baby bottle and fill it with spare change throughout October. It may seem that one bottle of change won't make an impact, but putting these bottles together will help many women choose adoption or parenting rather than abortion for their unborn child and give babies the best start possible. Financial concerns are cited as one of the common reasons why women have abortions. The Baby Bottle Campaign is a perfect project for providing individuals and families a chance by offering financial assistance for rent, utilities and other needs. Catholic Charities' Social Workers also offer help and hope to those who feel in crisis with their pregnancy.
If you prefer, mail your donation directly to Catholic Charities Baby Bottle Campaign, PO Box 379, Winona MN 55987 or give online at www.ccsomn.org/donate and designate donation to Baby Bottle Campaign in the notes section.
Mary Jo Copeland
trailer is full. Please do not bring items for the trailer until further notice.
Reinbows 14TH Annual Halloween Walk‑Through Tricks‑or‑Treating!
Sunday, Oct. 31st, 4‑6 PM, 43341 480th Ave., Windom. See The Horses Outside In Their NEW Costumes! Everyone is Invited! Please bring a canned food item for the Windom Area Sharing Center.
The Church of St. Paul in Comfrey
is holding its Annual Sausage and Sauerkraut Dinner on Sunday, October 24, 2021, 10:00 am Mass with special music. Drive‑thru Take‑out Meals only, serving 11:00‑1:30. Please watch for signs for the Drive‑Thru line. Meal price is $12.00 and includes: Sauerkraut, Sausage, Real Mashed Potatoes, Gravy, and Green Beans. General and 50/50 Raffle Tickets will be available for sale along the Drive‑Thru route. Extra rings of sausage will also be for sale. Our church is handicap accessible.
Bulletin announcements
should be submitted by 2:00 PM on Tuesdays. Send your requests to your respective parish office administrator.
Contributions
can be sent to Sacred Heart Church, PO Box 377, Heron Lake, MN 56137. You may also continue to support your parish through an online giving option. Giving is an act of worship. Your parish continues to need and appreciate your support.
Online parish donations
: An online page has been created on a secure website so that donors can make donations online to any parish in the Winona‑Rochester Diocese. Please visit
https://catholicfsmn.org/parish‑donations
. Donations made on this site are for the operations of parishes. Donors can use the drop‑down menu to select the parish that they would like to support. If donors would rather call in to provide their information, they can contact Monica Herman directly at 507‑858‑1276.
Facebook Page
New Parishioners
We welcome you into God's family! If you are interested in learning more about our church, or would like to join, please stop in the Parish Office.
Please notify the Parish Office of any change of address.
Marriage Preparation
Contact the priest 6 to 12 months in advance of the date of marriage to fill out the forms, to do FOCCUS Test and to attend Marriage Prep Mentoring sessions. Fr. Pratap is seeking married couples who are practicing Catholics, and have children, who would be willing to volunteer to help prepare our engaged couples for marriage. Please contact Fr. Pratap at 507‑226‑4536, or your parish office, if interested.
Baptism Preparation
Contact the parish office a month in advance to fill out the form and to attend Baptism Mentoring Sessions. All Baptisms will be celebrated privately until further notice.
Sacrament of Reconciliation
The Sacrament of Reconciliation still available by appointment for each Parish.