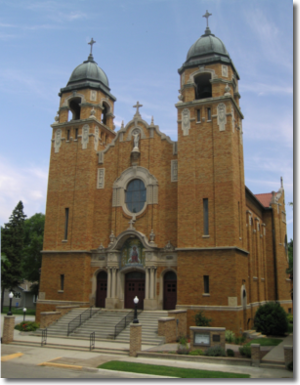 Tri-Parish Mass Intentions
You are invited to pray the rosary 1/2 hour prior to masses.
Friday (01-13)
9:00 am - Windom
† Dorothy A Becker
Saturday (01-14)
5:00 pm - Brewster
† Jack Follen
Sunday (01-15)
8:00 am - Heron Lake
† Living/deceased members of Ladies Court of COF
10:00 am - Windom
† Brian Spencer
Tuesday (01-17)
5:30 pm - Windom
† Thomas Brown
Wednesday (01-18)
9:00 am - Heron Lake
† George Pluard
Thursday (01-19)
9:00 am - Brewster
† Sylvester & Loralie Schmitz
Friday (01-20)
9:00 am - Windom
† Mavis & Herb Ratzlaff
Saturday (01-21)
5:00 pm - Brewster
† Laurie Haberman
Sunday (01-22)
8:00 am - Heron Lake
† Dick Burns
10:00 am - Windom
† Al Purrington
Know that Fr. Pratap includes all of us in his daily prayers and private Mass intentions.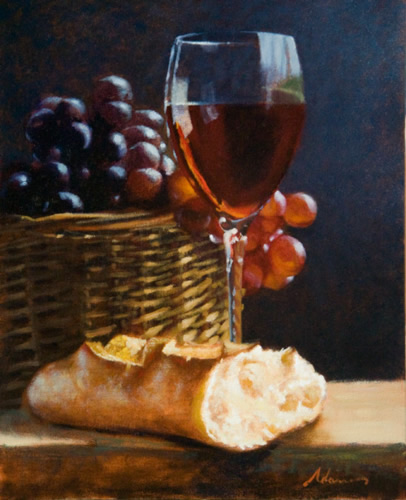 An Act of Spiritual Communion
My Jesus,
I believe that You are present in the Most Holy Sacrament.
I love You above all things,
and I desire to receive You into my soul.
Since I cannot at this moment receive You sacramentally,
come at least spiritually into my heart.
I embrace You as if You were already there
and unite myself wholly to You.
Never permit me to be separated from You.
Amen
No 9 A.M. Mass in Heron Lake on Wednesday, January 4th
When I think of the Beatitudes, I think of collectible coffee mugs emblazoned with the words Blessed are the peacemakers, with little pastel flowers stenciled in the white spaces of the lettering. I think of greeting cards and decorative wall hangings.
Why? These are the Beatitudes, for heaven's sake ‑ revolutionary and radical. An uncompromising impeachment of worldly values. They are the opposite of banal.
But I cringed from my head to my toes when I read my first draft of this reflection, a retelling of a time in my life when I decided to embrace humility and meekness. I realized that the Beatitudes aren't something I can tell you about. Poverty of spirit, the hunger for righteousness, the gladness God gives to the downtrodden ‑ these are concepts that must be animated within us. They must be lived. So instead of telling you my story, I want you to tell yours.
I invite you to think of a time when you were vulnerable. When you were discouraged or humbled or felt like a failure. A time when you were cut low. The loss of a job, perhaps, or the rejection of a loved one. The abrupt end of some road that you felt sure would be long and prosperous.
Resentment, envy, and vengefulness flourish in moments like this. Did you experience those feelings? Did you embrace them? Did you want to?
What did the world tell you this moment should mean?
What does Christ tell you it should mean? Have you figured it out, or are you still working on it?
God chose the foolish of the world to shame the wise, and God chose the weak of the world to shame the strong.
‑ 1 Corinthians 1:27
4th Sunday in Ordinary Time
In my parents' bedroom there were on the wall two photos of my mom and dad from their early adulthoods. The photo of my mother entranced me when I was a boy. I loved looking at it, even though I saw her in daily life. Something about that picture captured her perfectly. It was an image of the joy, wisdom, beauty, and strength that enveloped me from the start of my life. It was an icon of the woman who fed, taught, and encouraged me. I felt a deep pride that I came from such beauty.
The beatitudes of Jesus are a kind of self‑portrait. But it is a strange picture. At first, the blessings of being poor, mourning, and hungering and thirsting for righteousness may seem bizarre or, worse, a religious delusion. Who wants to look like that? But if we look again, we begin to see the characteristics of Jesus' form. He becomes poor and fills it with his riches for us, he weeps and mourns for us, and fills it with his joy, he hungers and thirsts for us to be righteous, and so satisfies us. And so on. It's the way he appears on the cross.
Perhaps we should put on our bedroom room walls the words of the beatitudes next to a crucifix of the Lord Jesus. Then we can do what the beatitudes are designed for, to gaze at the joy, wisdom, beauty, and strength of the one who is our origin, and who is with us every day. And little by little, we'll start to look like him.
Raise the Roof
: The diocese has approved our fundraising proxy. We are officially accepting monetary & grain donations to meet our goal by next spring. There is an urgency, as the roof can not wait to be fixed. Please help us to keep this church looking beautiful. Thank you to those that have already given.
Funday Sunday
has been scheduled for February 5, 2023 from 9am to noon in the church hall. Snow date will be February 12, 2023. Looking for adult helpers for games/activities. Please contact Vicki Hussong at 507‑360‑6089 if interested. We are, also, asking for $5 donation for Bingo prizes this year. If you would like to donate a raffle prize please contact Lisa Carlson, 507‑221‑0234 or Cheri Rademacher, 507‑360‑8636.
All youth Foresters
will receive free game tickets for Fun Sunday. Find Mackenzie by the ticket sale table for your tickets.
Church support statements
have been mailed. Raffle tickets for Funday Sunday are in with statements. Thank you.
Sacred Heart Church
is planning a ski trip to Mount Kato on Sunday, March 5th from 2 ‑ 9pm. Carpooling will be available. Youth Foresters will have their lift ticket paid for. The cost of skiing will be $22 for a lift ticket, $19 for ski rental, $4 for a helmet and $4 for a lesson. All first time skiers are highly encouraged to take a lesson. Please print and complete the release form from Mount Kato's website prior to arriving. Contact Kevin Leopold if you plan to attend at 507‑360‑3048.
Looking for a newer PC
: Please contact Melanie in the office if you have one you are willing to part with.
Mission quilt sewing
will be on Tuesdays, at 1:30pm in Steger Hall, weather permitting. Extra hands make light work; please join us on Tuesdays! Do you have any old drapes, mattress pads or blankets that could be used for batting? We could, also, use good used sheets or fabric for the quilt backs. Please drop these items at Church, Steger Hall or the rectory. Thank you!
Dear Caring Minnesotans,
Abortion advocates have won a narrow majority in the Minnesota legislature. Now some state lawmakers want to pass bills that would:
Create a new law (or constitutional amendment) allowing the abortion of any unborn baby, for any reason and done any time until birth;
Establish that Minnesota law gives parents no right at all to know if their minor daughter is undergoing an abortion, even thought parental consent is required for all other medical procedures;
Establish in law a requirement that even those with deeply held pro‑life convictions must pay for the killing of the unborn with their tax dollars
Only 7 countries in the world have an abortion law so extreme, among them China and North Korea.
Please help stop this evil from happening in Minnesota by filling out and mailing the cards at the entrances of the churches. These cards, when mailed to your state Senator and Representative, will inform them how vitally important this issue is to you. Please send the card, even if you believe you know how they will vote. Thank you.
Minnesota Catholic Conference
The Protect Reproductive Options Act, an extreme pro‑abortion bill that will also have a broad range of consequences including preventing parents in some cases from being involved in the healthcare of their minor children, was narrowly passed Thursday night by the House, and is now expected to be voted on by the Minnesota State Senate early this week. If passed, Governor Waltz has promised to sign it into law.
The Minnesota Catholic Conference is asking every Catholic across the state to urge their Senator to vote no on this bill. There is only a one‑vote majority in the Senate, so your message can truly sway the outcome. As soon as mass ends, please go to
mncatholic.org
to send an email, a video, or call your State Senator. Thank you.
Holy Land & Jordan Tours
‑ If you are planning to take part in the tour, please sign up as soon as possible. The tour is scheduled for Sept. 18 ‑ 29, 2023.
Upcoming events for all parishes
:
United for Life
: February 28th ‑ Join pro‑lifers across Minnesota for this pro‑life day at the Capitol. There will be great speakers, a rally in the Capitol rotunda, and time to meet with your legislators. Register today at
unitedforlifemn.org
.
Capitol Thursdays: Happening on the second and fourth Thursday of each month from 10:00 ‑ 11:30am. You'll learn to advocate for policies that pursue a consistent ethic of life, have a Capitol tour, and meet with your legislators. Adoration: Join us on the First Fridays from January to May any time from 9am ‑ 4pm at the Capitol in the Governor's Dining Room. In April, Adoration will take place on the 14th due to Good Friday. Pray for our legislators and state to promote the common good.
Confirmation for the Tri‑Parish
will be on Wednesday May 31st, 2023 at Sacred Heart in Heron Lake at 7:00pm.
Please pick up the eucharistic prayer
cards at the entries of the Churches and pray for the Eucharistic Revival of the Diocese of Winona at their June 10th event in Mankato.
The "Synod on Synodality"... What Is It?
In October 2021, Pope Francis announced a two-year process of listening and dialogue of the Catholic Church, known as the "Synod on Synodality."
A "synod" is a journey of discernment rooted in the Holy Spirit. In the Synod on Synodality, the entire Church has been called to discern how the Spirit is moving through and with the Body of Christ ⁠— inside and outside the Church ⁠— so that we may continue to fulfill our mission to evangelize in the world.
During the Synod on Synodality, all Catholics are invited to listen with open hearts and minds, to share from their own lived experiences, and to make space for the voices of those often marginalized or excluded.
With these synodal aims, Pope Francis has invited the Church into what is fundamentally a process of healing — both from wounds suffered inside the Church, and those experienced in other areas of our lives and relationships.
The synodal process is already starting in Catholic dioceses around the world. Whether you are preparing to participate in a synod listening session in your parish, ministry or even facilitate synod sessions for your diocese, YOU can model restorative approaches in this important process.
For more information:
Please remember to check the back page of the bulletin and support our sponsors!
Facebook Page
New Parishioners
We welcome you into God's family! If you are interested in learning more about our church, or would like to join, please stop in the Parish Office.
Please notify the Parish Office of any change of address.
Marriage Preparation
Contact the priest 6 to 12 months in advance of the date of marriage to fill out the forms, to do FOCCUS Test and to attend Marriage Prep Mentoring sessions. Fr. Pratap is seeking married couples who are practicing Catholics, and have children, who would be willing to volunteer to help prepare our engaged couples for marriage. Please contact Fr. Pratap at 507‑226‑4536, or your parish office, if interested.
Baptism Preparation
Contact the parish office a month in advance to fill out the form and to attend Baptism Mentoring Sessions. All Baptisms will be celebrated during Mass.
Sacrament of Reconciliation
The Sacrament of Reconciliation still available by appointment for each Parish.