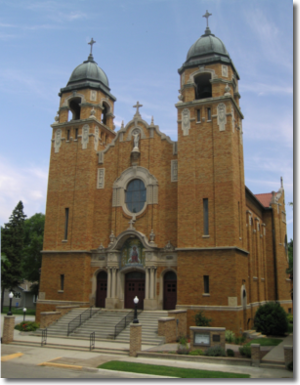 Tri-Parish Mass Intentions
You are invited to pray the rosary 1/2 hour prior to masses.
Thursday (04-08)
9:00 am - Brewster
Rose Boomgaarden — Homebound
Friday (04-09)
9:00 am - Windom
† Mavis & Herb Ratzlaff
Saturday (04-10)
5:00 pm - Brewster
† Tom & Rose Bohn
Sunday (04-11)
8:00 am - Heron Lake
† Lucy Ferguson
10:00 am - Windom
† Jack Determan
Tuesday (04-13)
5:30 pm - Windom
† Clara Bartosh
Wednesday (04-14)
9:30 am - Heron Lake
† Clair & Bernie Haberman
Thursday (04-15)
9:00 am - Brewster
† Paul & LaVerna Schaffer
Friday (04-16)
9:00 am - Windom
† Donald Frank
Saturday (04-17)
5:00 pm - Brewster
† Robert Weaver
Sunday (04-18)
8:00 am - Heron Lake
† Gary & Dick Burns
10:00 am - Windom
† Lowell & Nancy Determan
Know that Fr. Pratap includes all of us in his daily prayers and private Mass intentions.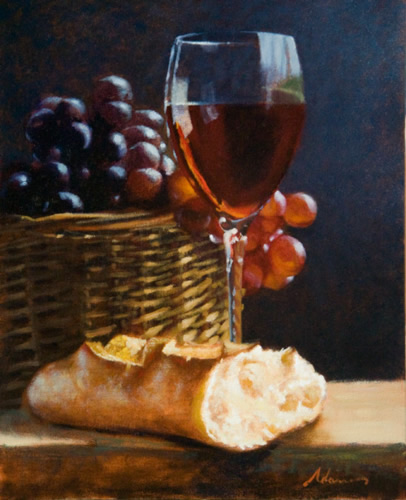 An Act of Spiritual Communion
My Jesus,
I believe that You are present in the Most Holy Sacrament.
I love You above all things,
and I desire to receive You into my soul.
Since I cannot at this moment receive You sacramentally,
come at least spiritually into my heart.
I embrace You as if You were already there
and unite myself wholly to You.
Never permit me to be separated from You.
Amen
Pope Francis Prayer for protection from Coronavirus
O Mary, you shine continuously on our journey as a sign of salvation and hope.
We entrust ourselves to you, Health of the Sick.
At the foot of the Cross you participated in Jesus' pain, with steadfast faith.
You, Salvation of the Roman People, know what we need. We are certain that you will provide, so that, as you did at Cana of Galilee, joy and feasting might return after this moment of trial. Help us, Mother of Divine Love, to conform ourselves to the Father's will and to do what Jesus tells us:
He who took our sufferings upon Himself, and bore our sorrows to bring us, through the Cross, to the joy of the Resurrection. Amen.
We seek refuge under your protection, O Holy Mother of God.
Do not despise our pleas – we who are put to the test – and deliver us from every danger, O glorious and blessed Virgin.
2nd Sunday of Easter (Divine Mercy Sunday)
What a wonderful joy fills us today as we ponder the inexhaustible mercy of God. "Mercy is the heart of God," Pope Francis tells us. The image of a heart has been used to point to the very life source of a person as it is the organ that allows life to flow through our veins and sustain us. Mercy is the heart of God. Imagine this dynamic, powerful, compassionate, piercing, embracing, loving, propelling, penetrating, absorbing, and enveloping, transforming presence of God flowing into the very depth of our souls. It is God's mercy that allows blood to flow through our veins. It is God's mercy that forms every atom of our being and leads us to what is true. God's mercy reveals all superficiality and falsehood, and lays bare all distortions, empty promises, weakness, and sin.
"Mercy is the force that reawakens us to new life and instills in us the courage to look to the future with hope," Pope Francis continues. God's all forgiving, compassionate love is with us. When we finally believe and accept that Christ's resurrected transfigured presence resides with us, we then find within us a strong confidence to accept life's imperfections and disappointments and move on. Every day is a new adventure in new life. God leaves the past behind and opens doors to the future. It doesn't matter how many mistakes we made yesterday. All that matters is what we do tomorrow and what we learn along the way. It is so easy to remain tethered and mired in the past, but there is no need to do so. God is all about tomorrow and the work God has yet to do in our lives.
Mercy gives birth to hope. Hope for the greatest of sinners and hope for the worst of disasters. There is nothing God cannot do and nothing God cannot fashion. After all, everything we know and treasure was once nothing, and look what God did with the nothing God had! The resurrected Christ stands before us with nail marks in his wrists and wounds on his body as a testament that not even injustice, suffering and death can trample over and destroy God's mercy. What have we to fear? Why do we keep ourselves from peace? Our lack of faith prevents us from going forward and fully receiving the holiness God desires to breathe upon us. Breathe in God's mercy, allow the wind of God's presence to kiss all of your sins and caress all of your fears. Exhale peace.
Recognize God in your ordinary moment ‑ Eye Has Not Seen
They say seeing is believing. But if you've ever ordered a pair of pants online, you know that's not always the case. Whatever the photos promise us, what looked like a perfectly nice shade of navy blue on our computer screens comes in the mail as an unusual shade of blue green that only appears in the giant box of Crayola crayons.
The Apostle Thomas, who couldn't bring himself to accept that Jesus had risen from the dead without seeing him, is such an utterly relatable figure in the Gospels. Thomas is still reeling from a loss ‑ not only of his good friend but his Lord, who was taken prisoner and crucified before his eyes. Thomas is guarding himself. He's not believing the hype. He's going to be the only judge of what is real and what is fiction.
Would any of us be any different? We've all had those thoughts. Can we believe it all ‑ Jesus, salvation history, the Eucharist ‑ when we haven't seen it with our own two eyes?
That's when we need to remember that those two eyes were absolutely positive they had ordered a pair of navy blue pants.
It's easy for us to sit back stroking our chins in judgment at Thomas, "you didn't believe the testimony of your friends!" But do we accept the testimony of our friends? The saints, the popes, the Church fathers themselves?
Sometimes the things that are most worthy of believing can't be seen with the naked eye.
‑ Tracy Earl Welliver, MTS
The parish office
will be closed April 14th ‑ 19th.
Divine Mercy Sunday
we honor our 2nd graders, Cora Haberman, Easton Holden, Morgan Liepold and Bristol VandeKamp as they receive the Sacrament of First Holy Eucharist. We congratulate them, and ask God to bless them on this beautiful and joyful occasion.
The scrolled wall hanging
of past members of Sacred Heart Parish clergy and religious was made and donated by Richard Freking. This beautiful reminder of our faithful servants hangs in the baptismal alcove. Thank you, Rich!
At mass
, please move in toward the center of the pew, if open. This will make the ends available so more people can be easily seated, and we can still remain distanced.
Thank You
to all who donated to the Easter flower fund and to Jeff Hotzler, Mary Mathias, Jayne Miranowski and Valerie Cihak for enhancing the beauty of all our Eucharistic Celebrations. You are so greatly appreciated.
Anyone interested
in forming a committee of four to update the Sacred Heart "Walking Tour" booklet of the church interior, please contact the parish office or Doreen Sheda 507‑360‑7774. The goal is to have this available for our Centennial Celebration, which our Parish Councils have decided to postpone until 2022.
Liturgical roles
for April and May are available on the tables in church entrance or you may view them on our website https://sacredheartheronlake.org. Please find a substitute if you're unable to be there on your designated date.
The 2021 Catholic Ministries Appeal
generates funding for services and ministries which benefit every Catholic in our Diocese of Winona‑Rochester. Share the Light of Hope and HIS good gifts with ALL! Please be generous and make your donation soon.
Your continued financial support
of our Church is so important. If you are not able to attend Mass at this time but wish to donate, please use the baskets in the Church or mail your contributions to Sacred Heart Church, PO Box 377, Heron Lake, MN. Thank you for your generosity!
The quilt raffle winners
were Jim & Lynne Liepold. Thanks again to Delores Pelzel for donating the beautiful quilt which raised $1,227 for our CCW.
Respect Life
‑ Our brothers and sisters in Christ around the world are being persecuted for the sake of the Gospel. This past January, five churches in Otamba, Kenya were burned down. Ten suspects are in custody. Defenseless Christians in Nigeria live in constant fear of deadly violence. Christian children aren't safe going to school. There are many heart‑wrenching stories that can be told. We need to remember them in prayer and support them in ways that we can. For more information on the persecuted church, see www.persecution.org and www.worldwatchmonitor.org. ‑ Samaritan Newsletter, April 2021
Regarding mass intentions
: If a Mass is cancelled, Fr. Pratap will include that scheduled Mass Intention at his private daily Mass. If you prefer it be rescheduled, please let Father or your respective parish office know.
The year of St. Joseph
offers a unique opportunity to seek indulgences ‑ History records very little about St. Joseph. But according to Pope Francis, the Gospel's depictions of Jesus' earthly father are potent examples of a loving family man and a solid worker entitled to enjoy the fruits of his labor. Pope Francis praised these attributes on Dec. 8, 2020, the 150th anniversary of St. Joseph being proclaimed Patron of the Universal Church by Pope Pius IX. The pope called for a year‑long celebration of the saint through Dec. 8 of this year.
The Apostolic Penitentiary issued a decree granting plenary indulgences for the Year of St. Joseph. Indulgences are often misunderstood, even by faithful Catholics.
If a person dies in a state of grace and friendship with God, but with temporal punishment still needed, they will undergo purification in purgatory. Plenary indulgences allow us to avoid this purifying state. An indulgence is speaking to the temporal punishment due to our sins that we have not worked out in our lives. We don't believe that everybody goes to heaven immediately, nor do a lot of people go to hell. But we know that there's a place of purgation we call purgatory. It's not a place, but more a process and a state, where if we have not made up for our sins of this life, we do it in the life to come. A "partial" indulgence remits some of the temporal punishment due to sin. But a plenary indulgence completely cancels temporal punishment due to sin. Therefore, the plenary indulgence approved for the Year of St. Joseph is an opportunity to make up for our sins fully while still in this world. Anybody can go to any church and fulfill the requirements.
The requirements for the Year of St. Joseph plenary indulgences, like all indulgences, start with going to confession, receiving Holy Communion, and praying for the intentions of Pope Francis.
The Apostolic Penitentiary has also noted that for this indulgence, people must also perform one of these devotions or acts of charity:
Meditate on the "Our Father" prayer for a half‑hour
Go on a spiritual retreat for at least a day that includes a meditation on St. Joseph
Do a spiritual or corporal act of mercy
Recite the rosary as a family or as a married couple
Entrust daily work to the protection of St. Joseph
Pray the Litany of St. Joseph or some other prayer to St. Joseph with an appeal for the persecuted church and the relief of persecuted Christians
People can say any of the approved prayers or do an act of piety in honor of St. Joseph, especially on:
March 19 (Solemnity of St. Joseph)
May 1 (Feast of St. Joseph the Worker)
The 19th of each month
Every Wednesday (which, traditionally, is dedicated to St. Joseph)
In the decree regarding this indulgence, the Holy See says that the "elderly, the sick, the suffering, and all those who for legitimate reasons are unable to leave the house" can still obtain the indulgence.
But they must have a soul "detached from any sin" and an intention to fulfill, as soon as possible, the three customary conditions and recite an act of piety in honor of St. Joseph, offering to God the pains and hardships of their lives.
Seekers perform these acts on their own. Clergy members are not needed to supervise the process, but people are free to consult them on the steps. The punishment due to our sins in this world and the next is beyond our understanding.
So we always want to be ahead of the game, in a sense.
Glorious Patriarch Saint Joseph, whose power makes the impossible possible, come to my aid in these times of anguish and difficulty. Take under your protection the serious and troubling situations that I commend to you, that they may have a happy outcome (here make your request). My beloved father, all my trust is in you. Let it not be said that I invoked you in vain, and since you can do everything with Jesus and Mary, show me that your goodness is as great as your power. Amen.
Contributions
can be sent to Sacred Heart Church, PO Box 377, Heron Lake, MN 56137. You may also continue to support your parish through an online giving option. Giving is an act of worship. Your parish continues to need and appreciate your support.
Online parish donations
: An online page has been created on a secure website so that donors can make donations online to any parish in the Winona‑Rochester Diocese. Please visit
https://catholicfsmn.org/parish‑donations
. Donations made on this site are for the operations of parishes. Donors can use the drop‑down menu to select the parish that they would like to support. If donors would rather call in to provide their information, they can contact Monica Herman directly at 507‑858‑1276.
Facebook Page
New Parishioners
We welcome you into God's family! If you are interested in learning more about our church, or would like to join, please stop in the Parish Office.
Please notify the Parish Office of any change of address.
Marriage Preparation
Contact the priest 6 to 12 months in advance of the date of marriage to fill out the forms, to do FOCCUS Test and to attend Marriage Prep Mentoring sessions. Fr. Pratap is seeking married couples who are practicing Catholics, and have children, who would be willing to volunteer to help prepare our engaged couples for marriage. Please contact Fr. Pratap at 507‑226‑4536, or your parish office, if interested.
Baptism Preparation
Contact the parish office a month in advance to fill out the form and to attend Baptism Mentoring Sessions. All Baptisms will be celebrated privately until further notice.
Sacrament of Reconciliation
The Sacrament of Reconciliation still available by appointment for each Parish.