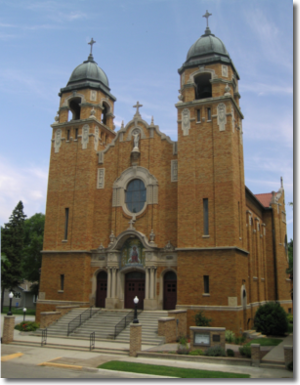 Tri-Parish Mass Intentions
You are invited to pray the rosary 1/2 hour prior to masses.
Thursday (08-11)
9:00 am - Brewster
† Joe & Rose Weinandt
Friday (08-12)
9:00 am - Windom
† Ed Grunewald
Saturday (08-13)
5:00 pm - Brewster
† Jack Strouth
Sunday (08-14)
8:00 am - Heron Lake
† Darlene Seifert
10:00 am - Windom
† Denise Young
Tuesday (08-16)
5:30 pm - Windom
† Donald Frank
Wednesday (08-17)
9:00 am - Heron Lake
† George Pluard
Thursday (08-18)
9:00 am - Brewster
† Mary Ellen Kelly
Friday (08-19)
9:00 am - Windom
† Thomas Brown
Saturday (08-20)
5:00 pm - Brewster
† MaryAnne McNab
Sunday (08-21)
8:00 am - Heron Lake
† Rodney Miranowski
10:00 am - Windom
† Nancy Reinitz
Know that Fr. Pratap includes all of us in his daily prayers and private Mass intentions.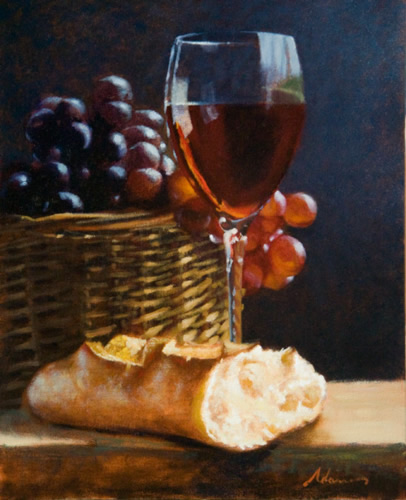 An Act of Spiritual Communion
My Jesus,
I believe that You are present in the Most Holy Sacrament.
I love You above all things,
and I desire to receive You into my soul.
Since I cannot at this moment receive You sacramentally,
come at least spiritually into my heart.
I embrace You as if You were already there
and unite myself wholly to You.
Never permit me to be separated from You.
Amen
Centennial Celebration on Sunday, August 21st, 2022
8:00-9:30 am
Coffee & Rolls provided by Sacred Heart
Church Tours and memorabilia on display in the Church Hall
10:30 AM
Mass with the Bishop
12:00 PM
Lunch at the Community Center courtesy of Sacred Heart
1:30 PM
Resume church tours and memorabilia displays
The Assumption: A Sign of Hope
Is the resurrection a concept or reality? For many of us, the resurrection of the dead may be a stray idea recite in the Nicene Creed. Heaven we discuss. But resurrection? The feast of the Assumption is a reminder to us that heaven gets even better! We pray that the souls of the faithful departed would soon be united to God in heaven. The truth is, the separation between our souls and our bodies was not God's original plan for things. It's one of the results of the Fall, of original sin. At the end of time and Jesus' second coming, our bodies and souls will be reunited. Lest we forget, Mary's Assumption is the reminder. Today, we celebrate that Mary is enjoying what we, too, hope to participate in ‑ complete joy in heaven with our God, experienced body and soul. Today and every day, let's pray for those who have died and that we may meet them again in the heavenly kingdom.
A Steward's Growing Pains
Have you ever written a check or seen the charge on the credit card machine that had far too many zeros on it for your comfort?
The brakes finally give up on the car you were hoping to nurse through the season. The water heater dies on the coldest week of the year. A medical procedure wasn't totally covered by insurance. We've all been here in this place, being asked to part with a not‑so‑small sum of money for a not‑so‑fun reason.
It's a little easier to bear when you're forking over dollar signs for a fun vacation or even a worthy cause like your child's education. But when it's something you weren't expecting, something negative, that uneasiness in the pit of your stomach can quickly become despair.
The next time this happens to you, embrace it. Celebrate it. Wrap your arms around it and welcome it as a growing pain.
We are often asked, in life, to give more than we wish. Our loved ones demand greater patience than we think we have. Our prayer life is stalling, and we feel God isn't holding up His end of the communication bargain. The daily grind seems to be grinding us down. We feel that uneasiness in the pit of our stomach, just as we do when we part with money we thought belonged solely to us.
That place of uncertainty propels us in life, in stewardship, in relationship. All forward motion comes from that feeling. Put out your hands and let yourself be thrust into the pit ‑ He will stoop to take you out from the mud. Spread your arms on your cross ‑ joy is waiting for you.
‑ Tracy Earl Welliver, MTS
20th Sunday in Ordinary Time
An inward transformation occurs in a person who decides to follow Jesus Christ. Things change. They see the world differently, understand their journey more deeply and profoundly, have their sights fixed on eternity and union with God and hold themselves to higher standards and virtues. It requires a conscious choice to be a Christian, and this choice must be renewed at least daily. While the basic premise of Jesus' message may appear heartwarming and straightforward: love of God, neighbor, and self, the implications of doing so are challenging. The true disciple is called to live radically, and often finds themselves at odds with the world or even with those in their own homes.
Holding ourselves to higher standards comes with a price. We have to leave other things behind. It is difficult to be people of faith, hope, and love in a world often fixated with its own fulfillment and self‑absorption. Justice, temperance, prudence, and fortitude require sacrifice if they are to be lived with integrity. God's ways are not ours. This becomes crystal clear to those who have enough courage to stand against the tide. Putting love into action requires that we challenge accepted modes of doing business and fight complacency. This is what makes the saints stand out as witnesses. They are simply sinners, just like us, who persevere.
People do not want to be told that they're sailing their ships in the wrong direction. Clinging to their insistence and need to be correct, they can become defensive when challenged. This can happen even with those closest to us. As much as the Gospel calls us to unity, it also can easily create division. When we love seriously, we encounter more than feelings of warmth and acceptance. "What does love look like? It has the hands to help others. It has the feet to hasten to the poor and needy. It has eyes to see misery and want. It has the ears to hear the sighs and sorrows of men. That is what love looks like (St. Augustine)." Love also has the courage and honesty to tell people what they may not want to hear but need to, and model, without wavering, a life of humble, loving, and faithful service. Don't lose heart! There are many examples of faith before us and around us. If Jesus endured the voices of opposition, so too can we. There is no need to apologize for speaking the truth.
Don't forget
about the Centennial Celebration on Sunday, August 21st, 2022. There will be coffee and rolls from 8‑9:30, church tours from 8‑10 Mass by the Bishop at 10:30, and a meal to follow at Heron Lake Community Center. The catered dinner at the community center is complimentary courtesy of the Centennial Celebration fundraising. We ask that everyone who is planning on coming RSVP so we know how many to plan on for the meal. There are sheets available in the back of the church to RSVP. Thank you!
Raffle tickets
for a beautiful quilt made by Delores Pelzel for the Centennial Celebration have been mailed out. Please return by August 21st.
We are collecting church memorabilia
to have on display during the Centennial Celebration. If you have any photos or items that you would like to share, please contact Mackenzie Erickson.
God's Blessings to George & Collette Diemer
of Sacred Heart, Heron Lake, as they celebrated 50 years of marriage June 24th of this year. The family is hosting an open house event on Saturday, August 27th from 4‑7PM at the family farm. Please join them in sharing memories of the past and creating new ones. No gifts please ‑ they have 50+ years of treasures accumulated and your presence would be the greatest gift.
Sacred Heart Parish
in Heron Lake is looking for someone who is willing to teach Faith Formation Classes for grades 5th & 6th. If you or someone you know would do so please contact Judy Stenzel at judystenzel13@yahoo.com or 507‑360‑2049.
A Box of Joy
may be the only Christmas gift a child in need receives. Please help your CCW with this project by picking up a Box of Joy from the church; fill it and return it to the rectory by October 14th. A list of gift item suggestions & instructions can be found next to the boxes in church entrance. The postage will be paid by CCW.
Welcome to our new Bishop Robert Barron
, installed on July 29, 2022. and best wishes to Bishop John Quinn on retirement.
Respect Life ‑ Save the Date
September 10: National Day of Remembrance for Aborted Children at St. Mary's Cemetery from 10:00 am to11:00 am. For information on a location near you, see www.abortionmemorials.com.
September 28 ‑ November 6: 40 Days for Life: across the country and world! Over 21,989 lives saved since 2007! Documented). See www.40daysforlife.com for a location near you.
October 2: Respect Life Sunday and National Life Chain: 2:00 ‑ 3:15 pm. New location, details to come. For general information, see www.lifechain.net.
October 15: Public Rosary Rally for our country, near Anniversary of Miracle of the Sun! Noon to 1:00 pm, details to come.
Sunday August, 21st
St Francis Xavier Church ‑ 8:00 am
Sacred Heart Church, Heron Lake ‑ 10:30 am
Office position opening
: St. Francis Xavier Church in Windom is seeking a Parish Office Administrator. Must be a practicing Catholic, have basic computer knowledge including Microsoft programs, and be willing to work in an office setting. The office is located at 532 17th St., Windom, MN. A job application may be obtained from the Church office or by calling 507‑831‑1985. Send resume and credentials to St. Francis Xavier Church, PO Box 39, Windom, MN 56101 by October 28, 2022.
FOR SALE
: 3 Epson printers, work well, purchased August, 2018. Can be seen in the office during work hours. Make an offer.
The August 2022
issue of the Courier is now available online: https://issuu.com/dioceseofwinona/docs/august_for_page_1_fbedcfc153f500fr=sYzk2MjE3NjMzNjk
The Diocese of Winona‑Rochester
, in recognition and gratitude of your years of marriage, requests the honor of your presence at the Diocesan Marriage Anniversary Mass: Sunday, August 28, 2022. The Holy Sacrifice of the Mass will take place at two o'clock in the afternoon at St. Pius X Catholic Church, 1315 12th Avenue NW Rochester, MN 55901, followed by a Light Reception including the presentation of Anniversary Certificates. Family and friends are encouraged to attend! Register AT https://www.dow‑r.org/event ‑details
Help local children in need
start the school year by providing school supplies! Hero n Lake Caring Connections Facebook Group is Collecting School Supplies! We are looking for donations of school supplies for 40 children that we serve from families in need from the Heron Lake/Okabena Area. Drops off your donated items by August 25th at:
Security State Bank
P & J's Mini Mart
Lobby at Heron Lake City Hall
Blue Barn Okabena
The "Synod on Synodality"... What Is It?
In October 2021, Pope Francis announced a two-year process of listening and dialogue of the Catholic Church, known as the "Synod on Synodality."
A "synod" is a journey of discernment rooted in the Holy Spirit. In the Synod on Synodality, the entire Church has been called to discern how the Spirit is moving through and with the Body of Christ ⁠— inside and outside the Church ⁠— so that we may continue to fulfill our mission to evangelize in the world.
During the Synod on Synodality, all Catholics are invited to listen with open hearts and minds, to share from their own lived experiences, and to make space for the voices of those often marginalized or excluded.
With these synodal aims, Pope Francis has invited the Church into what is fundamentally a process of healing — both from wounds suffered inside the Church, and those experienced in other areas of our lives and relationships.
The synodal process is already starting in Catholic dioceses around the world. Whether you are preparing to participate in a synod listening session in your parish, ministry or even facilitate synod sessions for your diocese, YOU can model restorative approaches in this important process.
For more information:
Please remember to check the back page of the bulletin and support our sponsors!
Facebook Page
New Parishioners
We welcome you into God's family! If you are interested in learning more about our church, or would like to join, please stop in the Parish Office.
Please notify the Parish Office of any change of address.
Marriage Preparation
Contact the priest 6 to 12 months in advance of the date of marriage to fill out the forms, to do FOCCUS Test and to attend Marriage Prep Mentoring sessions. Fr. Pratap is seeking married couples who are practicing Catholics, and have children, who would be willing to volunteer to help prepare our engaged couples for marriage. Please contact Fr. Pratap at 507‑226‑4536, or your parish office, if interested.
Baptism Preparation
Contact the parish office a month in advance to fill out the form and to attend Baptism Mentoring Sessions. All Baptisms will be celebrated during Mass.
Sacrament of Reconciliation
The Sacrament of Reconciliation still available by appointment for each Parish.