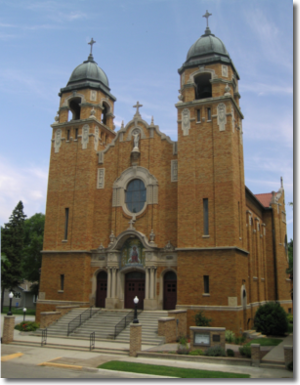 Tri-Parish Mass Intentions
You are invited to pray the rosary 1/2 hour prior to masses.
Friday (01-21)
9:00 am - Windom
† Ed Grunewald
Saturday (01-22)
5:00 pm - Brewster
† Marilyn Kruger
Sunday (01-23)
8:00 am - Heron Lake
NCSF Living & Deceased
10:00 am - Windom
† Kenneth Winker
Tuesday (01-25)
5:30 pm - Windom
† Donald Frank
Wednesday (01-26)
9:00 am - Heron Lake
† Helen Becker
Thursday (01-27)
9:00 am - Brewster
† Judy Ouellette
Friday (01-28)
9:00 am - Windom
† Al Purrington
Saturday (01-29)
5:00 pm - Brewster
† Brian Schmitz
Sunday (01-30)
8:00 am - Heron Lake
† Edward Freking Sr.
10:00 am - Windom
† Greg Schoborg
Know that Fr. Pratap includes all of us in his daily prayers and private Mass intentions.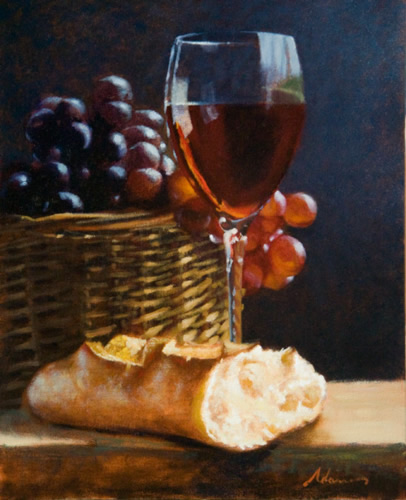 An Act of Spiritual Communion
My Jesus,
I believe that You are present in the Most Holy Sacrament.
I love You above all things,
and I desire to receive You into my soul.
Since I cannot at this moment receive You sacramentally,
come at least spiritually into my heart.
I embrace You as if You were already there
and unite myself wholly to You.
Never permit me to be separated from You.
Amen
Christmas Eve
Brewster — 3:30 PM
Heron Lake — 5:00 PM
Christmas Day
Windom — 9:00 AM
THE SOLEMNITY OF MARY HOLY DAY SCHEDULE
Friday, December 31st - Vigil
Windom — 6:00 PM
Saturday, January 1st - Holy Day
Heron Lake — 8:00 AM
---
Loving God,
During this holy season of Christmas, we ask for your blessing on all families.
Let Mary's openness to your wonderous ways be an inspiration to place all trust in you.
Let Joseph's courage provide hope during times of anxiety and uncertainly.
Let Jesus' life ignite all families with a spirit of light and love.
May he grace that encircled the Holy Family widen to embrase all families
For this we pray.
Amen.
---
Plant Your Works in the Word
One of the things about Scripture is that even the smallest word and shortest phrase can be critical to the overall message. When you take a quiet moment to rest with the Word, you find how quickly the most mundane sentence can reach out and grab you, pulling you into a deeper contemplation of some truth you hadn't even considered until then.
But we often fail to act as the Israelites in the Book of Nehemiah, standing before the Water Gate "listening attentively." Whether it's at Mass during the Liturgy of the Word or at home poring over the Bible, time after time we find ourselves less mindful than we could be. Our ears accept the sounds of the words and our eyes glance over the shape of the letters.
But are we mindful ‑ truly?
The best answer is hopefully at least sometimes. There are always tasks to be completed, problems weighing on our minds that we can't quite give over to God. We lose ourselves in these things instead of in Scripture. We "clock in" with Bible reading instead of "diving in."
We can never forget that the words of the Lord are spirit and life. They are the soil that quickens the seed of all stewardship. There is no mindfulness, no prayer, no graciousness, no gratitude or accountability or sense of commitment unless there is the Word.
So let us pray today for mindfulness, that our every action will be grounded in the law of God ‑ giving it true spirit and life.
Encourage deeper understanding of scripture
Human history reveals many periods where people lost a sense of God's transcendence. It may even be argued that human beings have been wandering and lost more than they have been at home and focused. Human nature being what it is, we struggle with who God really is ‑ the God of our salvation history or the "gods" of human constructs. Relying on our own designs and pursuits, we forget that we really are meant to listen to One upon whom the Spirit of the Lord rests, Jesus Christ, and not to ourselves. That same history that reveals our fickleness and infidelity also reveals God's constancy and faithfulness. God always finds us.
As people wander and fumble to find their way, God is there bringing them back to holiness and giving them the assurance of His presence. We have to allow God's Word, God's life, to touch us and change us. It can make us more flexible and attentive to the sacred in all facets of life so that every day is one that is holy. Every day is a time when fulfillment is possible for one's soul. Jesus stood before those gathered in the synagogue as the fulfillment of words of promise that were echoed long ago. God doesn't forget. He always comes for us.
Now it is time to remember to go to God. Sometimes our lives are so confused and tangled that it is difficult to see the Word and hand of God. But when we realize, deep within, the depth of friendship God offers to us it really has the power to turn sadness to joy. The promise is fulfilled. Going frequently to God's Word, allowing ourselves to be enriched and rejuvenated, and pondering the certainty of God's fidelity and promise permanently transforms us. We will be more aware of the sacred and the holy and less invested in things that pull us away.
Meetings
: CCW meeting will be held on Tuesday, February 8, 2022 at 7:00PM in the church hall.
Mission Quilt Sewing
will begin again on Tuesday, January 11th at 1:30PM in Steger Hall, weather permitting. Extra hands make light work; please join us on Tuesdays! Do you have any old drapes, mattress pads or blankets that could be used for batting? We could also use good used sheets or fabric for the quilt backs. Please drop these items at Church or Steger Hall. Thank you!
The Lenten Group
learning about "The Consecration of St. Joseph" will meet at Steger Hall, Heron Lake on Tuesday, February 15 at 6:30 p.m. There will be a $10 charge for the book needed for the six sessions. Please register soon if interested, so we can order books by calling Colleen Freking 507‑329‑0747.
Fund Day
: Due to the increase in cases of covid we will cancel Fun Day this year including the raffle. Sorry if this caused an inconvenience to anyone.
We greatly appreciate
the time and talent of Dianne Freking and Mackenzie Erickson on Advent and Christmas decorating; however, SACRED HEART PARISH is still looking for someone to do the seasonal decorating. Please contact the parish office if interested.
Liturgical ministry roles
for the months of February/March are available for you to pick up from the church entrance. Please find a substitute if you are unable to be there on your scheduled dates. Roles are also available for viewing on our website. Just visit us on http://sacredheartheronlake.org/bulletin.
REMINDER
: If school is late or closed due to adverse weather, Wed. Mass is also cancelled. Sunday Mass cancellation will be announced on KDOM and Worthington Radio Stations.
SEE PAGE 5 of tthe bulletin
for information on the Centennial Celebration of Sacred Heart Church, Heron Lake
The Synod on Synodality
is a two‑year process of listening and dialogue that will conclude in 2023. Pope Francis has asked the entire Church to take an active part in the synod, inviting people from all walks of life and from all around the world to gather together for prayer, sharing experiences, listening, and seeking the guidance and wisdom of the Holy Spirit. For more information, visit https://www.dowr.org/synod/index.html.
Synod 2021 ‑2023
Pope Francis and Bishop Quinn invite you to participate in... A two‑year preparation process for the 26th Ordinary Synod of Bishops, which will take place in Rome in the fall of 2023, has begun. The topic of the Synod will be "synodality", a term which Pope Francis uses to describe our Church's "journeying together" ‑ prayerfully listening to the needs and experiences of God's people in order to faithfully discern the best way forward. Pope Francis has asked the entire Church to take an active part in the synod, inviting people from all walks of life and from all around the world to gather together for prayer, sharing experiences, listening, and seeking the guidance and wisdom of the Holy Spirit. During this diocesan phase of the Synod, these gatherings will include parishioners, consecrated men and women, people of other Christian communities, and those "on the margins" of society and church life. There will be listening sessions held in each parish/cluster in the new year which will include prayer, reflection, and discussion on the life of our Church today, and how the Holy Spirit is calling us to continue our mission of proclaiming Jesus Christ to the world.
The "vital pillars"
of the synod process are:
Communion: "God gathers us together as diverse peoples of one faith. We all have a role to play in discerning and living out God's call for his people."
Participation: "A call for the involvement of all who belong to the People of God ‑ laity, consecrated and ordained ‑ to engage in the exercise of deep and respectful listening to one another."
Mission: "The Church exists to evangelize.... Our mission is to witness to the love of God in the midst of the whole human family." [From the "Handbook for the Synod"] The goal of the Synod is for the Church "to listen to the living voice of the entire People of God."
Please join us by participating in your local synod listening session!
As we head
into National Catholic Schools Week, let us remember that Catholic education solidifies our students' character and ethical framework for life as well as their personal relationship with and love for Christ. At Saint Mary's University of Minnesota, the state's Lasallian Catholic university, each student receives an education that nourishes their intellect, body, and spirit and offers an incomparable community with committed faculty who seek to have each student thrive.
St. Mary's
is recognized as a 2021‑22 Catholic College of Distinction. It also was ranked as Minnesota's "Best Value' by U.S. News & World Report, 2022.
For parents and students planning their college search, consider visiting Saint Mary's University in our diocese.
Learn more about Saint Mary's at smumn.edu/admission/undergraduate.
Give the best St Valentine's Day
gift possible by signing up for the February 12‑13 Marriage Encounter! Weekends are held at Mt Olivet Conference and Retreat Center in Farmington. Visit www.marriages.org to register, for additional information or call 651.454.3238.
Poland & Eastern Europe Pilgrimage
: Come along June 6‑17, 2022, to some of the most historical and sacred places in all of Europe. We'll see the home of St. John Paul II, visit the Shrine of Divine Mercy, walk through the Auschwitz Concentration Camp and so much more. We'll have Mass each day in great Churches and Cathedrals along the way. Cost is $4,199 with departure from Omaha. For a brochure and more information, contact Fr. Dan Guenther, St. Mary's Parish, 307 ‑ 4th Street North, Humboldt, Iowa 50548 or call 712‑899‑6870 or email frdanguenther@gmail.com
We are excited to announce
our parish now has a subscription to FORMED! FORMED is a premier on‑line platform filled with over 4,000 Catholic studies, movies, cartoons, audio dramas, ebooks, and talks ‑ and it's free for every parishioner in our tri‑parish.
Go to https://signup.formed.org/ to subscribe.
Enter our parish zip code. (56101), then click on St. Francis Xavier.
Enter your name and email address. You're in!
After you Sign Up, download the FORMED App by searching "FORMED Catholic" in your App store. For technical support: https://watch.formed.org/contact/support.
Contributions
can be sent to Sacred Heart Church, PO Box 377, Heron Lake, MN 56137. You may also continue to support your parish through an online giving option. Giving is an act of worship. Your parish continues to need and appreciate your support.
Online parish donations
: An online page has been created on a secure website so that donors can make donations online to any parish in the Winona‑Rochester Diocese. Please visit
https://catholicfsmn.org/parish‑donations
. Donations made on this site are for the operations of parishes. Donors can use the drop‑down menu to select the parish that they would like to support. If donors would rather call in to provide their information, they can contact Monica Herman directly at 507‑858‑1276.
Facebook Page
New Parishioners
We welcome you into God's family! If you are interested in learning more about our church, or would like to join, please stop in the Parish Office.
Please notify the Parish Office of any change of address.
Marriage Preparation
Contact the priest 6 to 12 months in advance of the date of marriage to fill out the forms, to do FOCCUS Test and to attend Marriage Prep Mentoring sessions. Fr. Pratap is seeking married couples who are practicing Catholics, and have children, who would be willing to volunteer to help prepare our engaged couples for marriage. Please contact Fr. Pratap at 507‑226‑4536, or your parish office, if interested.
Baptism Preparation
Contact the parish office a month in advance to fill out the form and to attend Baptism Mentoring Sessions. All Baptisms will be celebrated during Mass.
Sacrament of Reconciliation
The Sacrament of Reconciliation still available by appointment for each Parish.