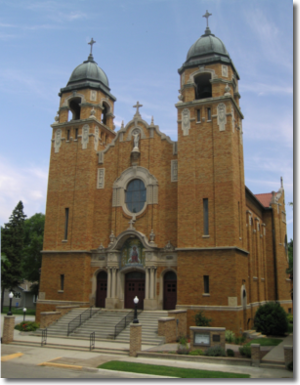 Tri-Parish Mass Intentions
Saturday (03-28)
† Linda Ruehle
Sunday (03-29)
† Wyatt Henkels
† Ben & Dorothy Becker
† Kenneth Winker
Tuesday (03-31)
† Jim Sotebeer
Wednesday (04-01)
† Rodney Miranowski
Thursday (04-02)
† Sylvester & Loralie Schmitz
Friday (04-03)
† Albert & Cecelia Frank
Saturday (04-04)
† Laurie Haberman
Sunday (04-05)
† Leonard & Viola Liepold
† Ronald Veenker
Know that Fr. Pratap includes all of us in his daily prayers and private Mass intentions
Weekly Gospel Reflection
Even though we say that we believe, there is a part of us that doesn't. There are many times in our lives when we experience death, whether it be the physical death of someone we love, a failed relationship, the loss of a job, or a broken dream. As we are going through these death experiences, we can easily find ourselves reaching out to God to make it better and fix it! We think that the proper order of life is to maintain the things of this world, especially those things that are essential to our sense of well-being and security. We do not like change. The grieving that comes from our death experiences can keep us stuck and in despair. If we have lost something or someone of great value, the very meaning and essence of life is lost with them. We need gentle companions to lift us from despair and that is precisely who God desires to be in our life as well.
God calls us out of our tombs, where we have been closed up in fear and despair, and shouts, "Come out!" He desperately wants to show us the path to hope and the new life that is possible after loss and death. But our faith can be weak, and we still prefer to cling to the memory of what we had rather than the joyful possibilities of tomorrow. We sometimes live as if God is not real and that the transformative power of His resurrected presence is a story found in the Bible rather than a narrative unfolding in our lives.
God is the God of surprises, not our demise. God opens new possibilities, begins new chapters, creates new verses, and brings us to new heights! We spend so much time and energy ruminating over what we left behind yesterday that we are far too tired to see what can unfold tomorrow. Loving someone new doesn't negate our past loves. Embracing the love of a person, God, or life itself tomorrow doesn't diminish the love of yesterday. Each of our loves is different, and one cannot be replaced by another. They don't cancel each other out. God truly has tended to every detail of our lives, and if we listen to each detail, we find that they all lead us back to Him. Jesus wants us to come out of our closed-up tombs. Are we going to listen this time?
©LPi
THE PARISH OFFICE
is closed until April 10th, but you may leave a message for Carmen at office or home and she will return your call.
PER DECREE ALL MASSES
have been suspended in our Diocese of Winona-Rochester. Father will offer his daily private Mass for the intentions of parishioners. The church will remain open for private prayer. Stations of the Cross booklets are available for use, but please return them to the back tables when you're finished.
FUNERALS
and baptisms will continue, but only a small number of immediate family members are to attend. Sacramental ministry will be available on an individual basis.
YOUR CONTRIBUTIONS
can be sent to the Sacred Heart Church Heron Lake office at PO Box 377. Giving is an act of worship. Your continued financial support of the parish is necessary and very much appreciated.
THE COF ANNUAL PALM SUNDAY
pancake breakfast has been cancelled, along with all other church related activities, until further notice.
PLEASE DO SUPPORT
the good works of our CCW by donating your $10 to their VIRTUAL BAKE SALE, and by selling or purchasing quilt raffle tickets, as that drawing will still be held. Thank you!
FILLED DITTY BAGS
should be returned to the tubs in church entrance by Palm Sunday, April 5th.
SUPPORT YOUR LOCAL FOOD SHELF!
During FoodShare month, March 1st - April 12th, all donations to MN Food Share Campaign are reported to allow participating food shelves to receive incentive grants and STRETCH your cash donations further because of their access to discount products and programs. Together, we can make a difference in our community. Call Margaret or Lori at 507‑537‑1416 extn. 1116 or 2139.
REMINDER
: The HL-O Community Food Shelf is open the 2nd and 3rd Thursdays of each month, from 2:00 -4:00 PM for those who need food assistance.
EASTER FLOWERS
: Please consider contributing to help defray the cost of decorating by using the Easter Flowers envelope from your packet.
THE ANNIVERSARY CELEBRATION
of Sacred Heart of Heron Lake will be held in August of 2021. Anyone interested in participating in the planning phase of this celebration, please contact Carmen in the parish office at 793‑2357 or email sacredhearthl@gmail.com
THE 2020 CATHOLIC MINISTRIES APPEAL
generates funding for the services and ministries which benefit every Catholic in our Diocese of Winona-Rochester. Share HIS good gifts with ALL! Please be generous and make your donation soon.
NO HARD COPIES
of the bulletin will be printed until further notice. The bulletin will be on websites only.
STATEMENT REGARDING SUSPENSION OF PUBLIC MASSES - BISHOP QUINN
: Beginning Friday March 20, 2020, in the DOW-R, all public Sunday and weekday Masses will be suspended for the next eight weeks, through Friday, May 15, 2020. On or before that date, a decision will be made to continue or to lift the restriction on public Masses. The faithful of the DOW-R will continue to be dispensed from their Sunday obligation for the duration of time that public Masses are suspended. During this time, Perpetual Adoration will also be suspended. The decision to suspend public Masses is the most difficult decision I have ever made. It is based on my desire to protect our people as advised by public officials and health care experts. By not coming together and having personal contact, we hope to limit the spread of the COVIS-19 virus.
You are encouraged to observe the Lord's Day by making a "spiritual communion" if you are able to watch Mass online at
https://www.dowr.org
or on television. The DOW-R TV Mass broadcast schedule is below:
KEYC Channel 12 (Mankato) Sunday at 7:30 am
KEYC-DT, Digital Channel 12.2 or Charter Channel 19 (Mankato) Sunday at 9:30 am
KPTH Channel 44 (Sioux City) Sunday at 8:30 am
KTTW Channel 7 (Sioux Falls) Sunday at 7:00 am
IF YOU NEED TO REACH FR. PRATAP
, please call his cell phone # 507‑226‑4536. DO NOT CALL the Rectory number listed in the phone book.
IF YOU HAVE AN ISSUE-BASED AGENDA
to be discussed with the Priest, schedule an appointment to meet in the office. Do not expect to meet in the church or sacristy between Masses.
UNLOCK THE POWER OF THE ROSARY THIS LENT
. The power of the rosary is beyond description said Bishop Fulton Sheen. It's a potent, saint-making prayer. A spiritual weapon so powerful it has defeated armies and changed world history. It can resolve personal problems, rescue souls from eternal death and conquer despair. But so few of us make the most of its graces. For more information, check out Our Lady's 15 Promises to Those Who Recite The Rosary on the internet.
CELEBRATE HOLY WEEK AND EASTER WITH EWTN
: Learn more about your Faith during the holiest time of the year with EWTN's firstrate movies, documentaries, musicals, children's programs, and much more! Join in the celebration of Mass from Rome and Washington, D.C. Get program details at
www.ewtn.com
& visit
www.ewtn.com/channelfinder
to find a station near you! Also, during Lent, be sure to visit the special Lent website by EWTN,
www.ewtn.com/lent
.
RESPECT LIFE
: 40 Days for Life is an internationally-coordinated 40 day campaign that aims to end abortion locally, through prayer and fasting, community outreach, and a peaceful all-day vigil in front of abortion businesses. Since 2007 when it began, 16,742 pre-born babies have been saved, 104 abortion centers have closed, and 196 abortion workers have quit, plus mothers and fathers have been spared the heart ache of abortion. It is held February 26-April 5. For more information, see
www.40daysforlife.com
.
MARY JO COPELAND DONATIONS
should be placed directly into the trailer, which is parked near the Rectory. Beginning April 7th, the trailer will be open the first Tuesday of the month from 5-7pm and the third Saturday of the month from 8 am to Noon. Do not leave items in the Hall entry or the back room.
Cross
A dedicated group of men created this cross from pieces of the original kneelers from Sacred Heart Catholic Church. They are being offered to parishoners and others for a nominal donation to Sacred Heart Foundation, to continue the restoration.
We would like to offer a cross to our eldest current or past Parish members living near Heron Lake or anywhere in the world, especially if living in skilled care facilities, home bound or with health difficulties. For those with the greatest need, it will be sent free of charge to the reciepients immediate family member for the presentation to their loved ones.
Church Renovation
Sacred Heart Church was built in 1920‑1921 and is listed on the National Register of Historical Places. This beautiful church has provided the spiritual needs of Sacred Heart Parish for many years. As the church has been there for our needs, it is time we take care of its. We are in the process of renovating the church in preparation of its 100th year anniversary.
Facebook Page
Please like and share our Facebook page
. The page is intended to connect current parish members and members that have moved with the activities of Sacred Heart Heron Lake. Additionally, it will show the activity and progress as the 98 year old building undergoes a restoration. Posts and pictures will be added as the project moves through each phase. Presently, the steering committee is working through priorities and possibilities of what can be accomplished with the funds available. Please enjoy what we offer.
New Parishioners
We welcome you into God's family! If you are interested in learning more about our church, or would like to join, please stop in the Parish Office.
Please notify the Parish Office of any change of address.
Marriage Preparation
Contact the priest 6 to 12 months in advance of the date of marriage to fill out the forms, to do FOCCUS Test and to attend Marriage Prep Mentoring sessions. Fr. Pratap is seeking married couples who are practicing Catholics, and have children, who would be willing to volunteer to help prepare our engaged couples for marriage. Please contact Fr. Pratap at 507‑;226‑;4536, or your parish office, if interested.
Baptism Preparation
Contact the parish office a month in advance to fill out the form and to attend Baptism Mentoring Sessions. All Baptisms will be celebrated during weekend Masses.