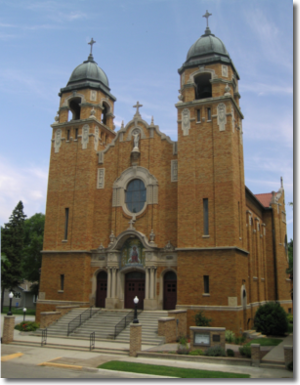 Tri-Parish Mass Intentions
Thursday (02-28)
9:00 am - Brewster
Edith Berreau—Homebound
Friday (02-29)
5:30 pm - Windom
Communion Service
Saturday (02-30)
5:00 pm - Brewster
Weaver Family Living & Deceased
Sunday (02-31)
8:00 am - Heron Lake
† Howard Damm
10:00 am - Windom
† Ed Grunewald
Tuesday (02-02)
5:30 pm - Windom
† Lorraine Mathias
Wednesday (02-03)
9:30 am - Heron Lake
† Al & Cora Freking
Thursday (02-04)
9:00 am - Brewster
† Sylvester & Loralie Schmitz
Friday (02-05)
5:30 pm - Windom
† Arlene Bartosh
Saturday (02-06)
5:00 pm - Brewster
† Linda Nau Ruehle
Sunday (02-07)
8:00 am - Heron Lake
† Karen Mathias
10:00 am - Windom
† Myrtle LeTourneau
Know that Fr. Pratap includes all of us in his daily prayers and private Mass intentions.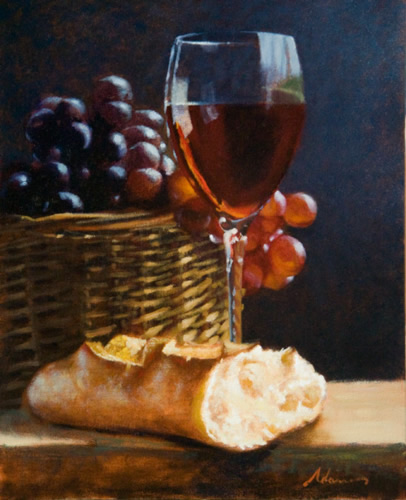 An Act of Spiritual Communion
My Jesus,
I believe that You are present in the Most Holy Sacrament.
I love You above all things,
and I desire to receive You into my soul.
Since I cannot at this moment receive You sacramentally,
come at least spiritually into my heart.
I embrace You as if You were already there
and unite myself wholly to You.
Never permit me to be separated from You.
Amen
Pope Francis Prayer for protection from Coronavirus
O Mary, you shine continuously on our journey as a sign of salvation and hope.
We entrust ourselves to you, Health of the Sick.
At the foot of the Cross you participated in Jesus' pain, with steadfast faith.
You, Salvation of the Roman People, know what we need. We are certain that you will provide, so that, as you did at Cana of Galilee, joy and feasting might return after this moment of trial. Help us, Mother of Divine Love, to conform ourselves to the Father's will and to do what Jesus tells us:
He who took our sufferings upon Himself, and bore our sorrows to bring us, through the Cross, to the joy of the Resurrection. Amen.
We seek refuge under your protection, O Holy Mother of God.
Do not despise our pleas – we who are put to the test – and deliver us from every danger, O glorious and blessed Virgin.


HAPPY BIRTHDAY FR. PRATAP!!
Thursday, July 2nd
Total attendance at each Mass is limited to 50% of occupancy with proper social distancing of 6 ft between people not living in the same household. If you have a fever or are ill, please stay home
Remeber to remove your mask at communion time, line up in single file staying 6 ft. apart, and sanitize your hands. Thank you.
You are invited to pray the rosary 1/2 hour prior to masses
Brewster ‑ Thursday and Saturday
Heron Lake ‑ Wednesday and Sunday
Windom ‑ Tuesday, Friday and Sunday
Give Until It Hurts
One of the characteristics of Everyday Stewardship is to be committed ‑ to persevere daily in a way of life acknowledging that everything belongs to God. I know, I know. Easier said than done.
Just ask Zebedee. It's quite an image we get from the Gospel, after all. "So they left their father Zebedee in the boat along with the hired men and followed him."
There was Zebedee, about his business, mending nets with his two sons, who were undoubtedly his best workers ‑ they had to have been more dedicated than the hired men, who worked for wages rather than for family. And in an instant off they go, following this strange man.
I don't know about you, but if my kids left me on a hot summer day to finish the lawn by myself, I wouldn't be too happy.
But Zebedee must have been someone quite special. Perhaps he realized that his sons didn't belong to him ‑ not really. They belonged to God, and from the beginning of time, it had been appointed that they would be among the first disciples of Christ. He passed, he called, they followed, and Zebedee obliged. He simply went back to mending his nets, I imagine.
"You're wasting my time." "I've done so much for her; she owes me this." How often do we think things, and even people and relationships, belong to us? The truth is none of them do. We must be ready, as Zebedee was, to surrender them to God when He comes walking past.
Zebedee already understood what St. Teresa of Calcutta would say millennia later: "Give until it hurts."
Gospel Meditation
Encourage Deeper Understanding Of Scripture
It was a normal day by all accounts, but John just wasn't feeling himself. He was a little lightheaded and out of sorts. Later in the afternoon,he experienced a sharp pain in his chest and arm.Quickthinking and action brought John to the emergency department with a diagnosis of a significant heart attack. Surviving this ordeal, he found himself face to face with his cardiologist, having an honest conversation about things that needed to change. "I came close to death," John found himself thinking. Then came the remorse. He was a young man with a loving wife and children who were very close to facing life without him. John found himself with intense sorrow for living an unchecked and self‑indulgent life that almost brought him to his demise. He wanted to change.
We all have our wake‑up calls. We have experiences and encounters that force us to really think twice about choices we have made and directions we have taken. Often, we find ourselves looking at those we have hurt square in the eye and wallowing in our foolishness. We regrettably realize that we have allowed our needs to lure us into making some cruel mistakes. We impulsively say things and flippantly do things that reveal our unredeemed and unhealed self. It is a self we stumble over and try to tame but can't quite seem to master and control. Help!
We spin our wheels, naively thinking that we will somehow, perhaps through persistence, get ourselves unstuck. But, we don't. We just get out of the car, feeling very helpless, and ignorantly look at the mess we got ourselves into. Did we ever think to ask someone for help? Or, taken the advice of One who is wiser and avoid this route altogether? "Come after me," are words that Jesus says to all of us. In order to heed his invitation, we must leave our ego‑self behind and follow.
When we really see and understand the freedom, peace, justice, and love he offers, we find ourselves with such sorrow in our hearts for how foolish and silly we have been. All the misguided choices and sinful actions come full view and we see how risky our random impassioned behaviors really have been. Repentance is beautiful. When done with a sincere and contrite heart, it directs us to the glory that can be ours, ignites us with the challenge of living a life in service of others and reminds us that all is well.
CCW Vacant positions
: The service commission of Family Concerns and the CCW Vice President position are still vacant and CCW is also looking for someone to do the church hall table decorations. If you're interested in filling any one of these positions, please contact Dianne Freking for details.
Thank You
to Bonnie Hagge and Dianne Freking for making and donating masks for both children and adults of our parish. Your thoughtfulness is so appreciated.
Thank You
, Donald Volk, for 46 years of faithful service as a Sacred Heart Cemetery Trustee. We also wish to thank his wife, and right‑hand assistant, Maurita. You are both so deserving of our heartfelt gratitude and admiration for your dedication to this parish. Our current cemetery trustees are Robert Liepold and Wayne Rasche.
The 2020 contributin statements
have been mailed out to parishioners.
Liturgical roles
for February and March are available on tables in church entrance or you may view them on our website https:sacredheartheronlake.org Please find a substitute if you're unable to be there on your designated date. Thank you.
Check out
the new Facebook Group Heron Lake Caring Connections. An outreach group to help those in need in our community.
Support your church
by placing your contributions, before or after Mass, in the baskets available on the tables in the church entrance. You may also mail them to Sacred Heart Church, PO Box 377, Heron Lake, MN 56137. Thank you for your support.
Reminder
: If school is closed due to adverse winter weather, then weekday Mass is also cancelled. Cancellation of Sunday Mass will be on KDOM and Worthington Radio Stations.
Respect Life
National March for Life, Washington, DC on Friday, January 29th will be a virtual event this year. This is the 48th Anniversary of the Roe V Wade decision, which has led to the tragic loss of over 63 million pre‑born babies to surgical abortion. For national coverage on the March for Life, see www.ewtn.org. If you or someone you know is suffering after abortion, confidential, compassionate help is available. Visit HopeAfterAbortion.org
In Parish Social Ministry for the Worthington Deanery
, one of the objectives is to help all of the parishes/clusters in the deanery with their social concerns ministries. This takes different forms in every parish, but we know good things are happening in each community. It has been a challenge ‑ especially with COVID ‑ to connect to the wonderful people doing the work in the differen tcommunities. So we came up with the idea of implementing virtual Social Ministry Roundtables, where we can bring together people from all the parishes to network, share ideas, get to know one another and support each other. Zoom has made it possible for us to connect in spite of limitations on meeting or geography!
My goal is to have our first meeting in February and to have at least 1 (preferably 2) people per parish or cluster. I definitely want to hear from you if you are interested. ‑Thank you and God bless, Lisa M. Kremer OFS, Parish Social Ministry Coordinator ‑ Worthington Deanery, cell phone ‑ 507.360.3423
Today Missal, BREAKING BREAD MISSAL, and the WORD
among us are in the Churches. A reminder ‑ if you choose to use one, please take it home and bring it back with you each week. This is a protocol given to us by our Diocese.
The Mary Jo Copeland trailer
will be open again starting Tuesday February 2nd from 5 TO 7pm.
PLEASE DO NOT LEAVE ITEMS IN THE CHURCH ENTRY
. The trailer is open on the 1st Tuesday and the 3rd Saturday of each month.
St. Francis Xavier
will now be live streaming our Sunday Mass. To view the Mass live, go to our website at https://www.sfxwindom.org/ and on the upper portion of the website, click on the tab that reads "Online Mass". That will open a webpage that gives you the option of watching our Mass live or watching a previously recorded Mass.
We are using the Zoom app for this service. If you have used Zoom in the past, you will be taken directly to the meeting. If you have not used Zoom before, you will be given instructions on how to install the app. More detailed instructions will be posted on our website.
Contributions can be sent to Sacred Heart Church, PO Box 377, Heron Lake, MN 56137. You may also continue to support your parish through an online giving option. Giving is an act of worship. Your parish continues to need and appreciate your support.
Online parish donations: An online page has been created on a secure website so that donors can make donations online to any parish in the Winona‑Rochester Diocese. Please visit https://catholicfsmn.org/parish‑donations. Donations made on this site are for the operations of parishes. Donors can use the drop‑down menu to select the parish that they would like to support. If donors would rather call in to provide their information, they can contact Monica Herman directly at 507‑858‑1276.
Facebook Page
New Parishioners
We welcome you into God's family! If you are interested in learning more about our church, or would like to join, please stop in the Parish Office.
Please notify the Parish Office of any change of address.
Marriage Preparation
Contact the priest 6 to 12 months in advance of the date of marriage to fill out the forms, to do FOCCUS Test and to attend Marriage Prep Mentoring sessions. Fr. Pratap is seeking married couples who are practicing Catholics, and have children, who would be willing to volunteer to help prepare our engaged couples for marriage. Please contact Fr. Pratap at 507‑226‑4536, or your parish office, if interested.
Baptism Preparation
Contact the parish office a month in advance to fill out the form and to attend Baptism Mentoring Sessions. All Baptisms will be celebrated privately until further notice.
Sacrament of Reconciliation
The Sacrament of Reconciliation still available by appointment for each Parish.