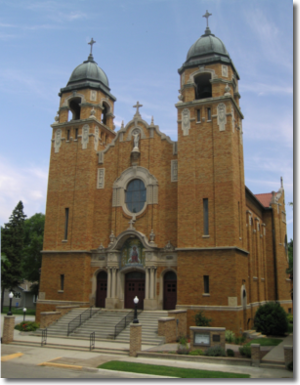 Tri-Parish Mass Intentions
You are invited to pray the rosary 1/2 hour prior to masses.
Thursday (02-25)
9:00 am - Brewster
† Jack Strouth
Friday (02-26)
9:00 am - Windom
† Ed Grunewald
Saturday (02-27)
5:00 pm - Brewster
† Paul & LaVerna Schaffer
Sunday (02-28)
8:00 am - Heron Lake
† Fr. Clayton Haberman
10:00 am - Windom
† Donald Frank
Tuesday (03-02)
5:30 pm - Windom
† Al Purrington
Ken Ortmann
Wednesday (03-03)
9:30 am - Heron Lake
† Joe Salentiny
Thursday (03-04)
9:00 am - Brewster
† Jared Bohn
Friday (03-05)
5:30 pm - Windom
† Lorraine Anderson
Saturday (03-06)
5:00 pm - Brewster
Bev Damm—Homebound
Sunday (03-07)
8:00 am - Heron Lake
† Milton & Tom Wolff
10:00 am - Windom
† Jerel Ahrens
Know that Fr. Pratap includes all of us in his daily prayers and private Mass intentions.
Total attendance at each Mass is limited to 50% of occupancy with proper social distancing of 6 ft between people not living in the same household. If you have a fever or are ill, please stay home
Remeber to remove your mask at communion time, line up in single file staying 6 ft. apart, and sanitize your hands. Thank you
Protocols for the public celebration of the Eucharist (MASS) during the Pandemic Restrictions
Wear a Mask, Maintain a social distance of 6 feet from others, Sanitize your hands at the entrance of the Church, Wait for ushers to guide you to a pew.
My Responsibilities when choosing to participate in the celebration of the Eucharist:
When in good health and with no cold, cough and fever, I choose to participate in the celebration of the Eucharist.
I wear a mask to the Church, sanitize my hands at the entrance of the Church and wait for ushers to guide me to a pew. Please do not enter Church without a mask.
Prior to receiving Communion, I sanitize my hands, follow social distancing and receive Communion reverently in my hand. Ushers will direct the Communion line.
I'll drop my offertory envelope in a basket placed at the entrances of the Church.
I will collect my own bulletin.
If I am able, I'll volunteer to assist in liturgical or ministry roles.
The faithful should be aware that the obligation to attend Sunday Mass remains dispensed until further notice.
Click here for the guidelines as suggested by Minnesota Department of Health.
DOW‑R guidelines for celebration of masses, dated January 11, 2021
:
The faithful should be aware that the obligation to attend Sunday Mass remains dispensed until further notice.
Those attending mass are required to wear masks unless they are 5 years old or younger, or have a medical condition to make it difficult to wear a mask.
Attendance at each individual mass is limited to 50% percentage of occupancy.
Receptions or social gatherings may take place at the following capacities:

When food and drink are served, no more than two households with up to 10 persons;
Events with no food or beverages may have 25% capacity or 150 people, whichever is less.
For other requirements on holding social gatherings, please refer to MDH's Gatherining Requirements for Celebrations and Significant Life Events.
While you are staying safe at home you can find daily gospel messages from Bishop Quinn at the Dioceses FaceBook page. If you have Facebook – go to the page for the Diocese of Winona‑Rochester and "like" the page, and these videos should show up on your Facebook newsfeed. https://www.facebook.com/DioceseWinonaRochester/videos/228448054972275/
You can find the daily readings at the United States Conference of Catholic Bishops website http://www.usccb.org/bible/readings/
Please stay home when you can and stay safe.
Pope Francis Prayer for protection from Coronavirus
O Mary, you shine continuously on our journey as a sign of salvation and hope.
We entrust ourselves to you, Health of the Sick.
At the foot of the Cross you participated in Jesus' pain, with steadfast faith.
You, Salvation of the Roman People, know what we need. We are certain that you will provide, so that, as you did at Cana of Galilee, joy and feasting might return after this moment of trial. Help us, Mother of Divine Love, to conform ourselves to the Father's will and to do what Jesus tells us:
He who took our sufferings upon Himself, and bore our sorrows to bring us, through the Cross, to the joy of the Resurrection. Amen.
We seek refuge under your protection, O Holy Mother of God.
Do not despise our pleas – we who are put to the test – and deliver us from every danger, O glorious and blessed Virgin.
An Act of Spiritual Communion
My Jesus,
I believe that You are present in the Most Holy Sacrament.
I love You above all things,
and I desire to receive You into my soul.
Since I cannot at this moment receive You sacramentally,
come at least spiritually into my heart.
I embrace You as if You were already there
and unite myself wholly to You.
Never permit me to be separated from You.
Amen